Denny Hamlin in Chase trouble after 'everything went wrong' at Kansas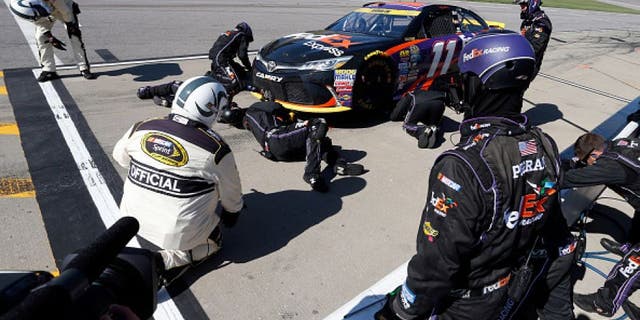 NEWYou can now listen to Fox News articles!
Denny Hamlin did not mince words when he was asked how his race went Sunday at Kansas Speedway.
"Terrible," Hamlin responded. "I mean, just everything went wrong. Stupid stuff. And then penalties when we shouldn't have 'em … just another year of the same stuff.
"So thanks to (primary sponsor) FedEx, thanks to Toyota for getting on the car and getting us on the race track. I just wish we could make things happen a little bit better.
"I mean, there's not much else I can do."
His response seemed to indicate the driver of the No. 11 Joe Gibbs Racing Toyota is not currently in the best frame of mind to try to race his way into the Round of 8 in the Chase for the Sprint Cup elimination affair this Sunday at Talladega Superspeedway, although he disputed that assertion.
"I've got full confidence we can go to Talladega and win," Hamlin said. "And we'll show that when we get there."
He very well might have to win to advance in the Chase. Hamlin's 15th-place finish at Kansas left him in 10th in the playoff standings, six points behind both Joey Logano and Austin Dillon (Logano owns the tiebreaker over both Dillon and Hamlin, however, and would be the one to advance if two or more of them end up tied for the eighth and final transfer spot after 'Dega).
Hamlin's playoff chances already were teetering entering the Hollywood Casino 400 at Kansas after a late engine failure a week earlier at Charlotte Motor Speedway resulted in a 30th-place finish in the opening race of the Round of 12 in the Chase. It left Hamlin in eighth and needing a good run heading to Kansas.
But he encountered early trouble with the splitter on the right front of his car Sunday, causing him to make repeated stops on pit road for repairs after it resulted in a right-front tire rub. One of the stops lasted 35.4 seconds -- interminable in a racing world often measured in milliseconds.
Still, Hamlin kept coming on the track. After falling to 35th by Lap 41 because of the splitter problems, he drove all the way up to sixth before disaster struck again on Lap 190.
Hamlin was running behind the No. 2 Team Penske Ford of fellow Chaser Brad Keselowski at the time as both drivers battled to stay in the top 10. But when Keselowski's car got loose, wiggled a bit and suddenly slowed down, Hamlin was too close to avoid contact with him.
"I got on the brakes as hard as I could," Hamlin informed his team over the radio after the light contact sent Keselowski spinning off into the infield grass, destroying Keselowski's car.
Despite all the troubles in the first two races of this round of the Chase, Hamlin insisted that he can make it to the next stage of the playoffs -- even if it means he has to win at Talladega. He has won there once, in the spring of 2014, over 21 career starts.
"I've got confidence I can win every single week on the race track," he said. "It's just that this is a team sport. You've got to have every single facet of the team all put together. And we've just got to execute."