Denny delivers: Hamlin takes second pole of 2014 at Pocono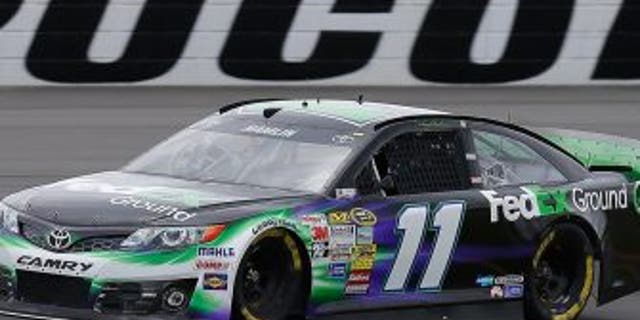 Denny Hamlin won the pole for Sunday's Pocono 400 NASCAR Sprint Cup Series race, with a new track record lap of 181.415 miles per hour in his No. 11 Joe Gibbs Racing Toyota.
Hamlin, who has four race victories at the 2.5-mile triangle, earned his third career pole here ahead of Kurt Busch, who ran 181.408 -- just 0.002 seconds slower -- in his No. 41 Stewart-Haas Racing Chevrolet.
"We really just made the car a lot better," said Hamlin. "Each round we made the car a little better. ... Hopefully, this lends itself to a great victory on Sunday."
Starting on Row 2 will be 2012 series champ Brad Keselowski and Kevin Harvick, with Jeff Gordon and Kyle Busch on Row 3.
There were three rounds of qualifying, a 25-minute first session for the full field, then a 10-minutes session for the fastest 24 drivers from the first round. The fastest 12 from Round 2 advanced to the final 5-minute round.
Notable drivers who failed to advance to Round 2 included 2003 Sprint Cup Series champ Matt Kenseth (26th), two-time Pocono winner Kasey Kahne (27th), Ricky Stenhouse Jr. (28th) and Marcos Ambrose (29th).
"We just didn't have the speed," said Kahne. "Actually, we were pretty slow."
Kyle Larson (14th), Danica Patrick (16th) and Jimmie Johnson (20th) made it into the second round, but not the final one. The real surprise in not making the final was Johnson, who won the pole for both races here last year.
"The driver messed up Turn 2," said Johnson. "That one's on me."
With only 43 cars entered, there were no DNQs this week.