Dennis Pitta will attempt a return to the Baltimore Ravens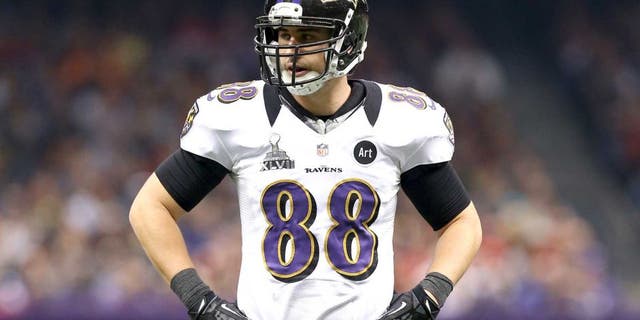 Dennis Pitta isn't giving up just yet.
After consulting with doctors and weighing the risks of playing in the wake of twice dislocating and fracturing his hip, the Baltimore Ravens' tight end has decided to attempt a return to the playing field in 2016, a source told FOX Sports.
Pitta is expected to participate in the team's offseason workouts and the spring practices, with the hope being he will be ready for full contact this summer and into the fall when the season begins.
Pitta, 30, hasn't played since Week 3 of the 2014 season, when he injured his hip against the Cincinnati Bengals. The next day, he underwent surgery to repair a fracture in the hip. It was a repeat of the previous summer, when he suffered a dislocation and fracture in his hip during a practice in training camp. Pitta was expected to miss the entire 2013 season but was able to return to action for the Ravens' final four games that year.
Last year, Pitta was on the physically unable to perform list to begin the season. In late October, he returned to practice, though there was never a real expectation he would play in 2015. After the season, Pitta made it clear he would have to make a decision on his future.
"I definitely do want to be on the field playing football," he said in an interview with Glenn Clark Radio in February, adding: "As much as I want to be on the field, there's also an element of being smart and weighing the risks, which there certainly are big risks in my case."
Getting Pitta back to form (61 receptions in 2012 and a touchdown in the Super Bowl to cap his breakout season) would be a bonus for the Ravens, who have used high draft picks on Crockett Gilmore (third round, 2014) and Maxx Williams (second round, 2015) and signed free agent Ben Watson two a two-year deal this offseason.
Pitta is slated to earn $5 million this upcoming season as part of a five-year, $32 million contract he signed in 2014. None of the remaining money on the contract is guaranteed.