Denna Laing and former NHL great Bobby Carpenter form inspirational Boston Marathon tandem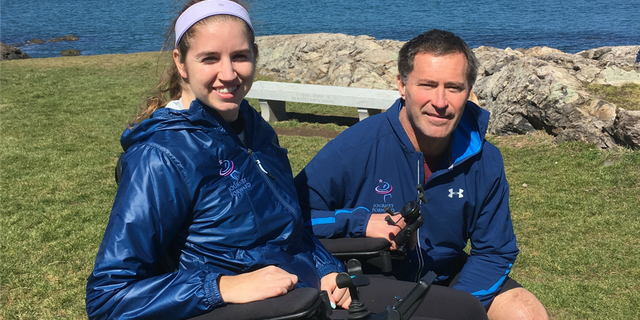 Like many who hail from the Boston area, Denna Laing has always held a deep appreciation for Patriots' Day and the thousands who run the Boston Marathon each year on the third Monday in April. Even so, the former Princeton womens hockey star never imagined that shed one day cover the grueling 26.2 miles, herself.
Any lingering aspirations Laing may have had of completing the race then met a serious roadblock when the forward for the Boston Pride of the NWHL suffered a severe spinal cord injury during the Women's Winter Classic on Dec. 31, 2015, leaving her paralyzed on the ice at Gillette Stadium during an exhibition with Les Canadiennes de Montreal.
However, 14 months after the accident, and with the help of hockey Hall of Famer Bobby Carpenter, Laing wont just be traversing the famed trail from Hopkinton to Copley Square Monday shell be doing so while raising thousands for the organization that she hopes will someday help her walk again.
Ive been so inspired by the stories of people running, and never in my wildest dreams did I think I would be in it, the 25-year-old Laing told FOX Sports this week. So I never saw this in my cards, but I was always impressed by the people who have done it, and to have Bobby step up like this and push me is just crazy.
Carpenters support in the race is both physical and emotional.
A Massachusetts native and longtime friend of Laings father, Dennis, Carpenter, 53, spent 18 years in the NHL, including four with his hometown Bruins, and ran his first Boston Marathon last year, raising money for the Last Call Foundation as he clocked a time of 3:46:53 beating his target of four hours
Inspired by the experience, Carpenter vowed to run again in 2017, but says this time he wanted to help someone else along the course. Laing soon came to mind as a partner, but when Carpenter approached the family about whether he and Denna could team with Carpenter pushing her in a specialized running wheelchair Denna was initially hesitant.
At first, I really didnt know how I felt about it, just because I didnt know how I was going to feel not having as active a role in the marathon, Laing said. But then Bobby said that we could run for Journey Forward, and at that point it became a no-brainer for me.
After six months of traditional physical therapy following her injury, Laing began working with Journey Forward in June, the day the organization opened the doors to its upgraded 12,000-square-foot facility in Canton, Mass. Today, Laing spends 14 hours a week in rehab and is already making great progress, according to the companys founder and VP of business development, Dan Cummings.
We get our paralyzed clients on treadmills, on total gyms, Cummings said. If an athlete wants to run faster or jump higher, they need to train for that stuff, they need to do those exercises they need to run, they need to jump in order to improve. Well, if we have clients that want to walk again, weve got to get them in those positions. Weve got to get them up on their feet.
Particularly, Cummings cites improvement in Laings core, back and upper body strength, specifically noting that she can now raise her arm for a handshake when she couldnt upon her arrival 10 months ago.
A lot of people want it to happen tomorrow, but its a game of inches, Cummings said of the recovery process. You have to work so hard blood, sweat and tears just to gain an inch. But those inches add up to feet and those feet add up to yards and those yards add up to miles. And youve just got to keep going, and thats the toughest part, a lot of times.
I feel that we give people the best opportunity to get out of their wheelchair, which traditional physical therapy just doesnt do, added Cummings, who was paralyzed in a 2000 diving accident but regained the ability to walk after seven years of rehab with Project Walk, a similar facility in San Diego.
And that was always my thing, he continued, The physical therapists were teaching me how to live in my wheelchair. I wanted to be taught how to get out of my wheelchair, and thats what we do. We try to teach people how to get out.
This year will be the fourth that Journey Forward has fielded a fundraising team through the BAAs John Hancock Non-Profit Program, and so far Laing and Carpenter have raised more than $55,000 enough to cover almost a year of the increased overhead at the facility without raising prices for clients.
It means a lot to me that people have chosen to support us in this endeavor, because that means that theyre choosing to support Journey Forward, as well, Laing said. Theres a very dedicated group of people dedicated to help me get better and dedicated to help everyone else who goes in there get better. Its a pretty inspirational place.
Overall, the Journey Forward team which includes a handful of other runners has raised more than $100,000, some of which will also go the non-profits financial assistance fund, which has granted $228,800 to 22 individuals who could not otherwise afford the $100-per-hour treatment the group provides.
I cant thank them enough, Cummings said. Im very appreciative of the fact that theyre doing this for Journey Forward. Its a lot of hard work. Its not just, Oh, let me go out and run a marathon. Its six to nine months leading up to it that theyre working toward it.
That lengthy journey has not been easy for Laing or Carpenter.
When the pair crosses the starting line on Monday, itll be just the third time the duo has gone on a run together the first coming in January, when the team took part in a 13.1-mile run in Clearwater, Fla., after the Clearwater Distance Classic was canceled by inclement weather. The other test run came last Sunday, in a 10-mile training loop in Laings hometown of Marblehead.
Carpenter has spent the rest of his prep time training with childhood friend Fernando Braz, and hes done so pushing sandbags to simulate Laings weight. But neither Carpenter nor Laing expect that to become an issue come race day.
I think we would have liked to have done a couple more of those (runs), but with the weather weve had this year its been pretty poor, really cold and windy, and its not really good for her to be in all that cold and wind, Carpenter said. So we really didnt get as much done, together, as we wanted to, but I think it should be sufficient.
For her part, Laing, in addition to her daily rehab, has been doing what she can to emotionally prepare for the event on her own.
Its a lot like how you prepare for a big game, Laing said. Its not that youre playing the game to get ready for the game. You work on all the little pieces. And one of the big things weve been doing thats going to be really important is working on our camaraderie. I think we get along really well and I think that emotional connection is going to push us really far on marathon Monday.
I definitely feel a responsibility to Bobby and I want to make sure I can help him in any way I can, Laing added. If thats talking to him or not talking to him Ive even joked that Id sing him a song if thats what he needed.
Carpenter, too, feels an obligation to Laing, but is adamant that he doesnt view himself as her legs in this race. His simple goal is to make a difference for Laing and for Journey Forward while encouraging others, just like the countless runners who have inspired Laing, herself, over the years.
I know shes in a position where shes not able to (run), but thats not my approach, Carpenter said. Its not something that Im doing to replace her legs. Im doing something to help her so she might be able to get them back.
It definitely became an even more important event for us Bostonians when the bombing happened, Laing added of marathon Monday, recalling the 2013 attack at the races finish line. It became such a symbol of strength and resiliency, so to be in something like that and to have my own marathon moment and my own marathon story is going to definitely be something to remember.
You can donate to Laing and Carpenters fundraiser via their CrowdRise page, and to learn more about Laing and follow her progress, visit DennaLaing.org. More information about Journey Forward can be found at JourneyForward.org.
You can follow follow Sam Gardner on Twitter or email him at samgardnerfox@gmail.com.