Denard Robinson ready to fight for starting role in Jacksonville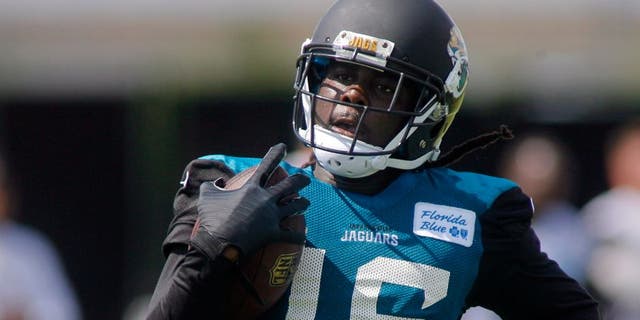 A sprained foot Dec. 7 ended Jacksonville Jaguars running back Denard Robinson's season prematurely, and with it, Robinson's grip on the starting job.
The Jaguars spent a second-round pick on former University of Alabama standout T.J. Yeldon, and now he, not Robinson is the favorite to start Week 1 against Carolina.
Robinson, who led the Jaguars with 582 yards rushing last season, said he's ready to make an impact in his third season, in any way possible. The 24-year-old has also been working as a punt protector on the punt team and is competing for the team's open kick returner job.
"That's the goal, taking that next step,'' Robinson said, via Vito Stellino of the Florida Times-Union. "My third year, I'm excited about it. I'm ready to have fun with it. I feel like I have grown. I'll continue to be who I am and be the best I can be every day.''
The former fifth-round pick, who last season seemed to finally carve out his role in the NFL as running back, conceded he'd like to be the team's starter. Even if he doesn't start, the third year player still figures to get plenty of carries as Yeldon's backup. Robinson he isn't worried about competing with the rookie.
"I've got to focus on me,'' Robinson said. "At the end of the day, it's about what I have to do to make myself better. If I just focus on getting better, everything will fall in place.''
Jacksonville general manager Dave Caldwell said the former Michigan quarterback has proven he's an NFL running back.
"He's been really good,'' Caldwell said. "Every time he steps on the field, he's getting better. He's more decisive in his reads and he's hitting the hole and he's got excellent burst and explosion and he's a guy the defenses have to be aware of. I think he's got a higher ceiling than he's achieved to his point.''
(h/t Florida Times-Union)