Demian Maia makes his pick for Tyron Woodley vs. Stephen 'Wonderboy' Thompson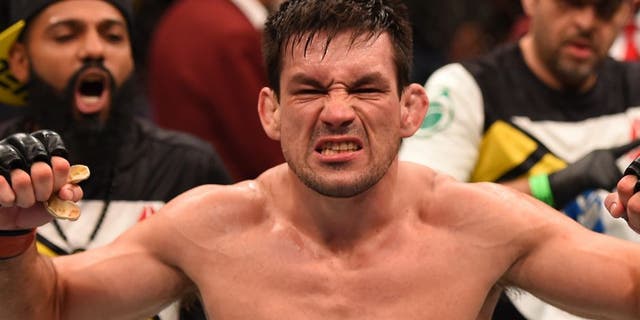 No matter who wins in the UFC 205 co-main event, Demian Maia will be waiting.
Maia is expected to face either Tyron Woodley or Stephen "Wonderboy" Thompson after they settle their grudge on Nov. 12 and as long as the title is on the line, the submission specialist from Brazil will gladly face either opponent.
Maia is currently riding a six-fight winning streak, including back-to-back submission victories over Carlos Condit and Matt Brown.
While a title shot has eluded him thus far, Maia is expected to get the winner of Woodley vs. Thompson and he broke down the matchup during a recent Q&A with fans in England ahead of UFC 204.
"The fight is a little more for 'Wonderboy,'" Maia said. "I think he probably will be able to control the way Rory (MacDonald) did with Woodley. Like movement and control the distance, but Woodley is always dangerous with the big right hand. If he hits him with the right hand, it will be a problem.
"If not, I think 'Wonderboy' will win by points or TKO, something like that."
When MacDonald faced Woodley in 2014, the Canadian welterweight kept the current champion pinned against the cage and just battered him with punches and kicks over three rounds to win a lopsided decision.
Maia seems to believe Thompson can do the exact same thing and walk away with the welterweight title when he meets Woodley on Nov. 12.
As far as his own potential matchup with Thompson, Maia is confident that he could avoid the striking power of the karate prodigy and get the fight to the ground where very few people have managed to survive with him.
"He's an unorthodox striker and I'm an unorthodox grappler. Let's see. I believe in jiu-jitsu, I believe in my style. I believe I'm going to win if I fight him," Maia said about Thompson.
"Every fighter that I've fought in the UFC in the welterweight (division), they didn't want to go to the ground with me, and I was able to put all my opponents to the ground. I was able to take all the guys down. Everybody trains wrestling so I'm pretty confident in my takedowns. I know everybody's going to try to avoid (that) but even the fights that I lost in this division, I took everybody down. So it's not going to be different."
Maia's proclamation that "Wonderboy" will win at UFC 205 will not sit well with Woodley, but the current champion will undoubtedly use that as motivation going into his first title defense.
Ahead of his title fight with Robbie Lawler in July, Woodley heard Thompson pick against him as well and he turned that around with his first round knockout victory to win the title. Now Woodley has bulletin board material to use against Maia if he's able to get past Thompson in November.