Demian Maia: 'If I took Robbie Lawler down, I know I could beat him'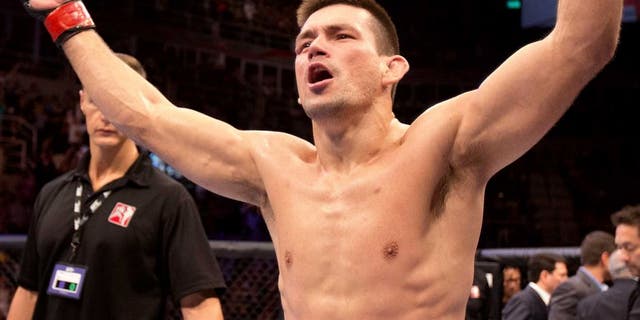 After earning his third-straight win, Saturday, at UFC 190, Demian Maia proved that he is still a top welterweight. In fact, by dominating and then submitting the division's hottest prospect, Neil Magny, Maia may just have earned another fight with someone in the top-five.
Of course, Maia has had a taste of what it's like at the very top of the 170 pound division. He lost a decision to Rory MacDonald, who himself came within a moment or two of winning the belt last night at UFC 189, but initialy had the Canadian contender grounded and controlled with his grappling game.
Simply because of his success, the elite Brazilian Jiu Jitsu black belt now has to think about facing the best, once more. Should he earn his way to a fight against welterweight champion Robbie Lawler, Maia knows it would be a tough fight, but has confidence that his grappling could prevail.
"In my case (the ground is) the only way," Maia told MMA Junkie, Saturday.
"I'm not going to exchange punches. His hands are too heavy. You see what he did in his last fight. He's tough. He has a big heart and it's hard to take him down. But if I'm able to take him down I know I can win. I can do that to pretty much anyone in the division."
The Brazilian has no illusions about it being easy to drag the "Ruthless" champion to the mat. After all, Lawler has become more well-rounded with age, and genuinely looks to be the very best in the world at 170 pounds.
That said, Maia said that fight is still the one he's gunning for. "[The fight with Lawler would be] pretty tough," he admitted.
"He's tough. He's experienced. He's not young. He has a lot of experience. What he did to Rory [MacDonald at UFC 189]? Rory is great. I fought him [so] I know he's great. And, he was winning the fight and Robbie was able to pull the win [out] in the last round. Robbie is a guy with a big heart. He's hard to take down, [he has] heavy hands, he deserves to be a champion. I wish I can fight him one day for the title."