Demian Maia grounds Jorge Masvidal, earns title shot against Tyron Woodley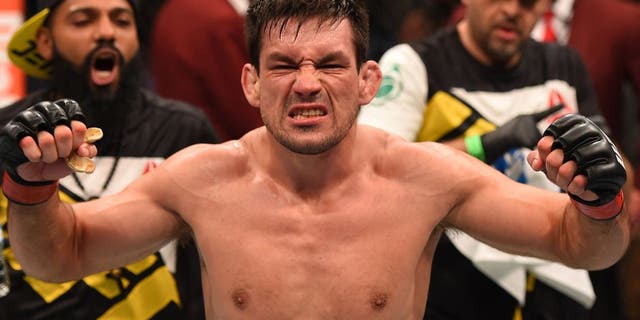 DALLAS Demian Maia will finally get his title shot.
With seven wins in a row including a split decision victory over Jorge Masvidal at UFC 211 on Saturday night, Maia will get a crack at welterweight champion Tyron Woodley in his next fight.
It was another classic Maia fight as he took away Masvidal's most dangerous weapons on the feet while fishing for submissions for 15 straight minutes.
In his most recent performances, Maia has all but told his opponents when the fight begins that he's going to drag them to the ground and it was exactly the same at the start of this fight as Maia went after Masvidal's legs immediately before dragging him to the ground and taking his back.
To Masvidal's credit, he was able to get back to his feet during the scramble but he still had Maia wrapped around him like an anaconda.
For the majority of the round, Maia tried to get a rear naked choke submission, but Masvidal stayed patient while never getting into too much danger.
When Masvidal finally worked his way free with just seconds remaining in the round, he began firing off a series of hard punches as Maia laid prone on the mat.
While the end of the round didn't go his way, Maia quickly darted back out to look for the takedown in the second but this time Masvidal resisted his attempts to drag the fight to the ground.
As time ticked on, Masvidal seemed to be turning the momentum in his favor but Maia was relentless with his takedown attempts before pulling the fight back down to the mat. Maia once again took the back while peppering away with punches as Masvidal played defense on the ground.
As the final round got underway, Masvidal took the center of the Octagon but didn't really unleash much offensively but instead waited for Maia to finally dive forward for the takedown.
It didn't come through the first couple of minutes, but Maia finally pressed the action before dragging Masvidal back down to the ground and taking his back yet again.
Maia's control on the mat was absolutely stifling and as much as Masvidal was able to resist his submissions, he just couldn't wiggle free to do any damage of his own.
The judges scored the fight 29-28 two times over for Maia with the third judge giving the fight 29-28 to Masvidal.
With the win, Maia went over to the corner where UFC president Dana White was sitting so he could ask him for a title shot yet again.
"You got it," White said in response.
It appears Maia will now get the next crack at Woodley and the welterweight title later this year.