Demian Maia doesn't have 'any doubt' that a win at UFC 211 should earn him a title shot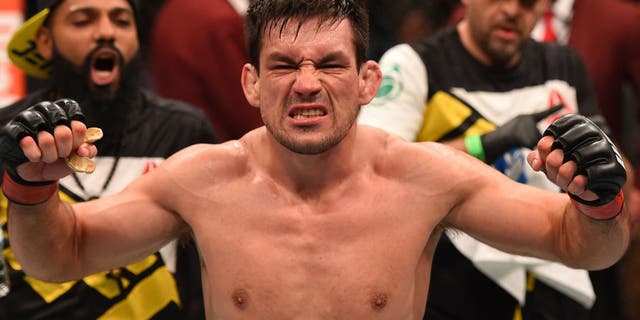 DALLAS By all accounts, Demian Maia should already be fighting for the UFC welterweight title.
The veteran submission specialist has won six fights in a row including a lopsided victory over Gunnar Nelson as well as tapping out former interim champion Carlos Condit as well as Matt Brown in recent performances.
Still, Maia hasn't earned his shot at the gold and instead he's facing a very tough opponent this weekend at UFC 211 when he takes on Jorge Masvidal in Dallas.
Admittedly, Maia was a little frustrated that he had to fight yet another top ranked welterweight rather than earning his title shot, but he couldn't deviate his focus or risk Masvidal getting a win over him.
"At first of course [I was disappointed] but after I said OK, let's fight so I just cleared my mind and that's the fight," Maia told FOX Sports on Wednesday. "Like every other fight, it's the most important fight of my life. Every fight is the most important fight of your life."
Maia knows that Masvidal offers an interesting opposition with his fast hands, dangerous boxing and quick takedown defense.
Current welterweight champion Tyron Woodley has even commented that Masvidal's style could present a lot of problems for Maia's grappling heavy game where he attempts to drag his opponents to the mat before applying his world class Brazilian jiu-jitsu arsenal.
Still, Maia is just as confident now against Masvidal as he's been in all his recent fights because he knows he doesn't need much time with any opponent on the ground to show why he's arguably the most dangerous submission artist in the UFC.
Josh Hedges/Zuffa LLC/Zuffa LLC via Getty Images
"Every fight of course is different but pretty much he's a very good striker with takedown defense. At this level, everybody's like that. Almost every fight that I have fought, they were really good strikers with takedown defense," Maia said about Masvidal "So I don't think it's different but I just feel when you get inside the Octagon, you're really going to feel your opponent.
"My goal is to [submit him]. My mindset is to do that. Of course, he's a really tough opponent, very well rounded, very good boxer, but in my mind I want to go in there and do the same as the last fights."
Maia understands there are no guarantees that a title shot will await him with a win on Saturday night, but he also knows there's no logic against him challenging for the belt if he gets past Masvidal at UFC 211.
"I don't have any doubt about that," Maia said about getting his title shot with a win over Masvidal.
Masvidal faces Maia at UFC 211 on Saturday night with the prelims airing live on FX starting at 8 p.m. ET.
Jeff Bottari/Zuffa LLC | Zuffa LLC via Getty Images