Demetrious Johnson: 'Uneducated fools' should stick to watching reality TV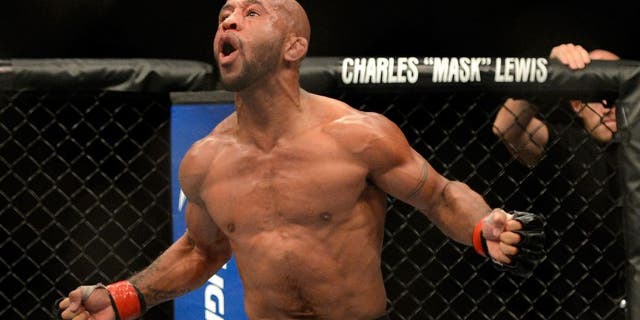 Flyweight champion Demetrious Johnson might be one of the best pound-for-pound fighters on the planet, but no matter what he's done during his title reign, fans just haven't gotten on board to clamor for his fights.
Maybe it's because Johnson has torn through the flyweight division like a tornado, ripping apart every opponent the UFC has thrown in his path like they were made of tissue paper.
Maybe it's because Johnson has been relegated to fighting relative unknowns like Chris Cariaso and Kyoji Horiguchi, who were both more than 5-to-1 underdogs when facing the flyweight champion.
Whatever the reason why, Johnson is done caring about it and that's been clear in the lead up to his fight with John Dodson at UFC 191 as he's taken a much more brazen approach to question answering than in any other bout before now.
Whether he was guarded for the sake of not wanting to say the wrong thing or trying to be a good example to the next generation of fighters, Johnson is just being himself now -- take it or leave it -- he's done worrying about it.
"The funny thing is you can't make everybody in the world happy," Johnson told FOX Sports on Thursday during a media conference call. "I've seen comments about me being brutally honest and speaking my mind and somebody on the internet was like 'dude I wish that person would shut the hell up and just go back to being the bad ass ninja who just shows up and kicks everybody's ass'. Right there's another person who you can make a cup of tea and he's either going to like it or that person's not. So you can't make everyone happy."
"Once you start trying to make everybody in the world happy and make the fans happy then you're going to lose sight of what's more important, which is being the best mixed martial artist in the world."
No one doubts Johnson's skills when it comes to his in Octagon performances.
He's already defended his flyweight title six times with four of those wins coming by way of finish before the final bell. Johnson has landed jaw-shattering knockouts, bone breaking submissions and earned the latest tap out in UFC history when he put away his last opponent with one second remaining in the fifth and final round.
In all honestly, Johnson can't do much more than what he's already doing inside the cage and in his opinion, that's what matters most.
"At one point in time in my career it was like 'oh he never finishes nobody' and the next thing you know I'm breaking people's arms and making them tap out and knocking them out and next thing you know 'oh I don't like his personality', well OK if you don't like who I am, I can't help you there, buddy," Johnson said. "I try not to think about that stuff because it's only going to go so far and when you start to worry about that stuff and let it get in your mind then you stop putting on great performances and writing your name in the history books. I'm more focused on that and that's all that matters to me.
"Going out there and performing and showing that I'm a well rounded fighter. I can strike, grapple, submit, clinch, if you look up in an encyclopedia and ask what fighters can do any type of martial arts at a high caliber level, my picture would show up."
Johnson knows he has the respect of his fellow fighters and that kind of peer acknowledgement goes a long way to proving that he really is one of the best fighters in the world.
Recently, UFC women's bantamweight champion Ronda Rousey was asked who was her favorite fighter to watch and without hesitation she name dropped Johnson.
"I think he's the most well-rounded and I feel like I'm watching one of the later episodes of Dragon Ball Z when you only see one second of action going on between them disappearing 'cuz they're going so damn fast," Rousey said about Johnson. "I wouldn't be surprised if rocks start levitating around the ring because of all the energy emanating from it."
Johnson says Rousey's words are similar to what he's heard from several other fighters in the UFC and their admiration just proves that the work he's doing in the Octagon is being noticed even if it's not by the majority of fans.
"Well, she's very educated and I've got nothing but love for Ronda Rousey," Johnson said. "That's the thing, I never walk past another fighter in the UFC from heavyweight all the way down to women's strawweight, middleweight men, other champions, and I've always got big praises and I give it back to those guys as well.
"It's only the fans and the uneducated fools out there who say 'oh you're boring'. In my mind it's OK if you say so but you just don't understand what I'm doing, you don't understand the process and the technique that I bring to the table. I'm in awe that Ronda Rousey thinks so highly of me and that's awesome."
Whether Johnson is ever the most popular fighter in the UFC doesn't really matter to him anymore. Being the most skilled, technical fighter on the planet -- whether the world is watching or not -- is what Johnson wants to be.
If you want to watch excellence in motion, Johnson hopes you'll tune in to see him fight. If you want trash talk, unnecessary namecalling and some overhyped drama, the UFC flyweight champion suggests you stick to reality TV.
"I'm not focused on getting the fan's notoriety and get them rallied behind me. If you want to see greatness in mixed martial arts, you're going to tune in when I fight," Johnson said. "If you want to see drama and all that stuff, you guys can go watch 'Bachelor in Paradise' and still get that drama you want to watch."