Demetrious Johnson on counter strikes and John Dodson's 'hard road' ahead of UFC 191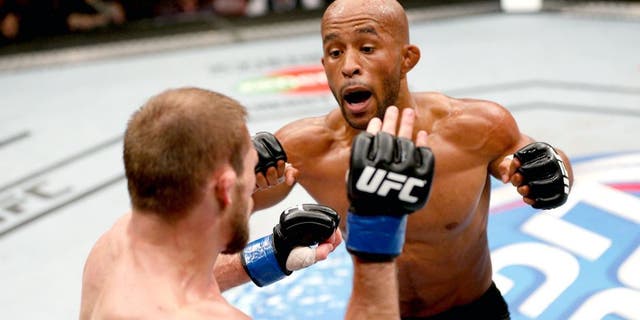 NEWYou can now listen to Fox News articles!
LAS VEGAS --- Because he isn't partial to taking verbal cheap shots at opponents, UFC flyweight champion Demetrious Johnson has an undeserved reputation for not being very lively during interviews. In fact, Johnson doesn't hesitate to call things as he sees them, even if it offends people.
That goes for calling b.s. on charges from some media and fans, as well as UFC 191 challenger John Dodson's charge that Johnson is a "boring" fighter by calling them "uneducated fools." Johnson also gives seemingly forthright answers when asked to break down the more technical aspects of the fight game.
For example, during a recent conversation with the champ and UFC 191 headliner, we asked Johnson to look at his first fight against Dodson, back in 2013. In the first two rounds, Dodson managed to knock "Mighty Mouse" down three times.
Many of Dodson's big punches throughout that fight's five rounds came in the form of straight punch counters when Johnson led with kicks. Conventional fight wisdom holds that it can often be risky to begin a strike combination with kicks, as opposed to starting out with punches to set up and make less predictable the later kicks.
Johnson is usually quicker than his opponents, making virtually any kick from him pretty unpredictable. Dodson timed enough of those kicks-without-punch-set ups, however, to land counter punches that hurt Johnson.
Well, at least it appeared that way. Days away from his championship rematch against his rival, Johnson denies that any of those counter right punches really connected flush.
As such, he insists that he won't be hesitant to lead with kicks, again, this Saturday if he feels inclined to. "No, because those never landed, flush and clean," he maintained.
"A lot of people asked me the same thing that you have and asked if those leg kick counters landed. They really didn't land that much. Why avoid kicking if he barely nicked me? Everyone may think they land but they don't really land. It's just the way I like to go about doing things. If you can punch me, good for you. I'm coming right back at you, anyway."
Johnson usually seems loathe to give Dodson - who has spent years trashing him in the media - much of any credit. That said, he isn't eager to pile on in ways he doesn't actually believe in, either.
For example, Dodson did not look to be anywhere near as quick and sharp during his May 23 fight against Zach Makovsky as he did in his previous fights. If he wasn't it could very well have had something to do with the near year-long absence from competition leading up to that fight because of a serious ACL injury that required surgery.
When asked, Johnson can't really know which Dodson he'll get, and whether or not his rival will be his old self or not. "It's kind of hard to say," he admits.
"I've known guys in the gym who've had ACL surgery, and it's a hard road. Not taking into account rehab and fight camp, he had a bout an eight month recover. It's hard to say how he'll fight. He's usually out there running. We'll see how well he can still do that."