Demetrious Johnson explains why he's not jumping weight classes like Conor McGregor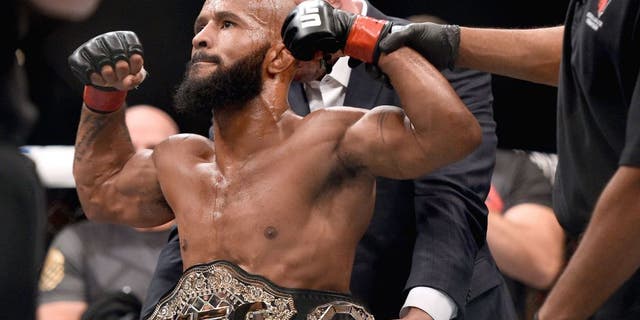 For all the talk about Conor McGregor's willingness to go up to weight classes much higher than his natural division, flyweight champion Demetrious Johnson isn't buying that it's always a good idea.
Of course, McGregor found out the hard way that moving from featherweight to welterweight and facing a bigger fighter like Nate Diaz doesn't always go as planned. McGregor got submitted with a second-round rear naked choke when facing Diaz at UFC 196.
Johnson actually competed for a big part of his career as a bantamweight, but he was almost always out sized by his opponents, and when the UFC created the 125-pound weight class he knew that was his future home.
"Big fights (at bantamweight), but at the same time when Conor talks about 'I'm going to 170' this and that, the other day I woke up weighing 137 (pounds). That's two pounds," Johnson explained when speaking to FOX Sports. "Go ask (Dominick Cruz) what he's walking around at, he's probably at 160. Me going to 135 it's like wake up and go take a (expletive) and I'm ready let's jump on the scale.
"So it's a little bit different. I'm truly fighting bigger men."
Johnson says even in McGregor's case against Diaz, he wasn't facing a true welterweight.
Diaz typically fights at 155 pounds and though he has dabbled at welterweight in the past, he suffered lopsided losses against the top 10 opponents he faced in Dong Hyun Kim and Rory MacDonald.
Johnson says the same fate would probably land on McGregor's shoulders if he really tested the waters at 170 pounds because size matters and he'd be dwarfed in height, weight and power by the biggest welterweights in the sport.
"You just have a dude who's fighting at 145, he's fighting with a full belly and then you have Nate Diaz, who's fighting 155 and 170. So when Conor McGregor fights a true welterweight like a Tyron Woodley or Stephen Thompson, that's a true welterweight fight," Johnson said.
Johnson admits he did contemplate a move back to bantamweight at one point in the not so distant past, but his head coach Matt Hume convinced him there's still plenty of work left to do at 125 pounds.
"There was a point in time and I even went up to Matt (Hume) and was like 'Matt, I think I'm ready to do it, I'm ready to go fight at 135, I want people at the edge of their seats like oh (expletive) the champ's going to go fight at 135'. But he goes 'there's bigger things to do DJ'. He said if you can go out there and beat Anderson Silva's record, that's big. That's what my goal is, and that's where my heart is right now," Johnson said.
"If somebody goes 'you should go to 135', my heart's just not into it. I'm just not interested right now. If the money's right, then I would, but I'm just not interested."
The record is Silva winning 10 consecutive title defenses, the most in UFC history. Johnson sits at seven title defenses with his eighth coming up at UFC 197 against Henry Cejudo.
Even if he beats Cejudo and the next three contenders to break Silva's record, Johnson says there will always be new fighters to face at flyweight so he really doesn't see a need to pursue another division now or anytime in the near future.
"They'll always find somebody for me to fight," Johnson said. "Whether I win or lose, they'll find somebody to fight and I'll compete, I'll make money and I'll pay my bills."