Demetrious Johnson compares his style to Floyd Mayweather but made for MMA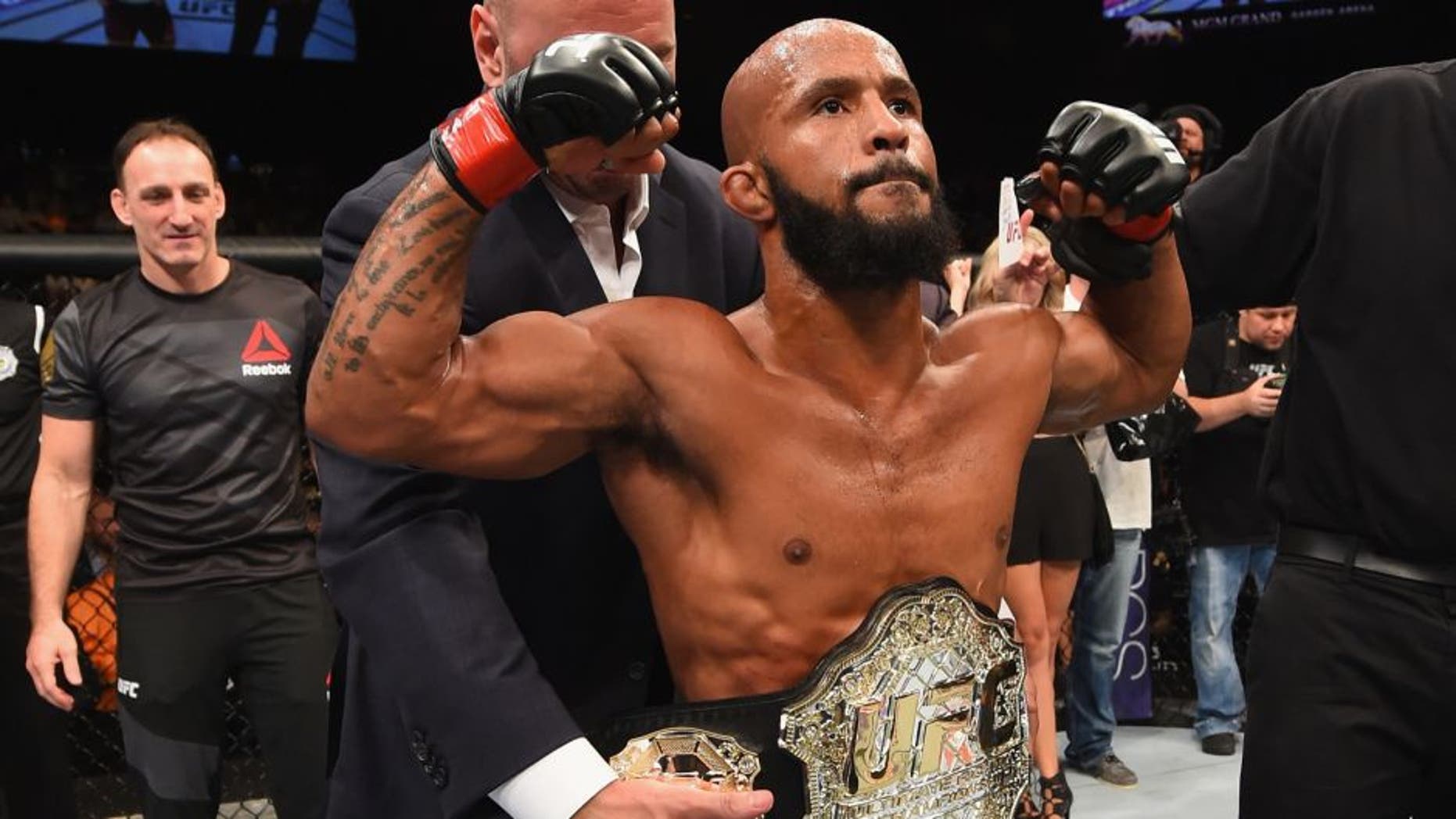 When it comes to domination in mixed martial arts there may not be a better shining example than what flyweight champion Demetrious Johnson does every time he steps inside the Octagon.
Johnson has looked virtually unstoppable through his eight title defenses while also showcasing a myriad of talents on the feet, on the ground and everywhere in between.
While some have criticized Johnson for not engaging in the kind of crowd-pleasing brawls that could give him a bigger fan base, he argues that the goal in MMA is to hit and not be hit.
Johnson prefers to out-class his opponents in every facet of the game and none of that requires him taking a mountain of punishment just to put on a show.
"Floyd Mayweather is going to go down as one of the greatest boxers in the world, and he got there by not getting hit and making his opponents look like fools. That's what I'm trying to do," Johnson told FOX Sports. "That's what Dominick Cruz is doing. That's what more fighters are doing, trying to incorporate more footwork and not being hit in the Octagon.
"The UFC back in the day it had this notion where it's like 'two (expletive) tough guys get in the Octagon, in underwear, no gloves and they're going to fight until the (expletive) end!' I think a lot of the fighters in the UFC still have that on their mind -- let's not be fighters, let's go out there and bang, bang, bang. Hell no!"
Johnson understands that not everyone will be pleased by the way he chooses to fight but that's always a matter of opinion.
When Johnson performs, he may not be engaging in an all-out war or finishing his opponents in devastating fashion just seconds into the fight, but he typically decimates them in such dominant fashion that he leaves no question about who was the better man when the fight is over.
In baseball terms, many fans want to see two fighters battle it out in a home run derby with fists serving as bats as each one tries to out mash the other. In Johnson's case, he's more like an ace, pitching one-hit shutouts every time he steps on the mound -- the wins may not result in as many highlights, but his performances are lopsided and completely dominant.
"I think there is a fan base out there that appreciates that and applauds that but there's also a bigger fan base, a more outspoken fan base that likes to see great fights, back and forth wars and that stuff. That's more outspoken and that gets more of a reach," Johnson explained. "When I go to Japan, that's all I hear is, 'You're (expletive) amazing, your transitions are awesome, you're as fast as a sonic boom.'
"Here in the U.S. you have your Internet trolls and it comes with the territory. I know my style. I've sat in the pocket and banged it out with people. I've sat in the hotel room and I'm looking at my shins and I'm looking at my face and I'm like, '(Expletive) this, wars are overrated'."
So Johnson is never going to apologize for being one of the best fighters, who also takes the minimum amount of damage while displaying a maximum amount of skill.
It's taking time for fans to come around to Johnson's way of winning, but many of his contemporaries have already taken notice.
Whenever the subject of the best pound-for-pound fighters in the sport come up, a ton of fighters reference Johnson's name at the top of the list, including former women's champion Ronda Rousey, who called him her favorite fighter to watch.
Johnson appreciates those compliments, but ultimately says he's not in this to appease anybody inside or outside the UFC with his performances.
His goal isn't to be anyone's favorite fighter, but instead to go down as one of the greatest fighters of all time and that's an accolade that can never be disputed.
"If the other guys think that I'm a great fighter, that's awesome, but at the same time I'm not out to prove or gain their respect," Johnson said. "I'm not going to perform thinking, 'Oh I want to make sure I'm Ronda Rousey's favorite fighter'. I just want to come in and work my butt off and make a statement, win my fights, get paid, take care of my family. That's what motivates me and drives me along with being the longest reigning champion in my time.
"Like right now in the UFC there's no champion who has defended the belt as many times as I have. It's not about the popularity, it's just you can't argue facts. Right now, I'm the longest reigning champion and no one can dispute that. You can say 'oh he's boring' whatever -- I'm the longest reigning champion right now."