DeMarre Carroll ranked 81st in SI's top 100 NBA players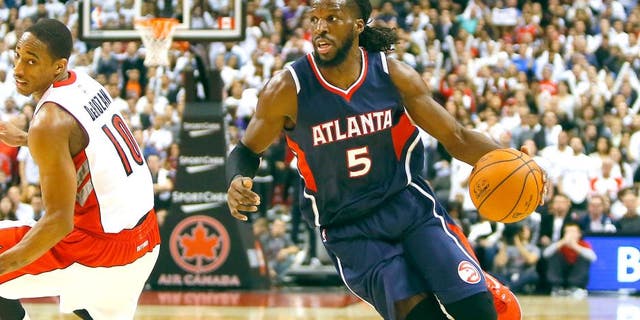 DeMarre Carroll was a key piece on a Hawks team that won 60 games during the regular season last year, and as an unrestricted free agent, was rewarded for that effort with a four-year deal worth $60 million from the Toronto Raptors.
But the folks at Sports Illustrated don't necessarily believe he's all that.
In the publication's rankings of the league's top 100 players, Carroll came in at just 81st on the list. Here's what they had to say:
"Did any NBA player really have a better off-season than DeMarre Carroll? Consider: after earning roughly $8 million total during a six-year journeyman career, the 6'8" combo forward struck gold by securing a four-year, $60 million contract from Toronto. But, unlike Draymond Green, Jimmy Butler and other free agents who received gigantic raises this summer, Carroll bathed in new dough despite being the least important member of his team's starting five. Indeed, the "Junkyard Dog" was the only Hawks starter not selected to the 2015 All-Star Game, and he ranked fifth on the team in points and minutes played, third in rebounds, and seventh in assists. The advanced stats told the same story: Carroll ranked fifth among Atlanta's starters in net rating, offensive rating, defensive rating, Win Shares, and fourth in PER."
This is one case where stats don't tell the entire story.
Once other Hawks players went down with injuries, Carroll stepped up as a capable two-way player who could affect both ends of the floor, and was the best and most consistent performer on the team throughout its run to the Eastern Conference finals.
Jonas Valanciunas came in at 77th, DeMar DeRozan came in at 61st, and Kyle Lowry landed at 34th on the (ultimately meaningless) list.
(h/t: SI)