DeMarre Carroll hopes to see DeMar DeRozan improve his three-point shooting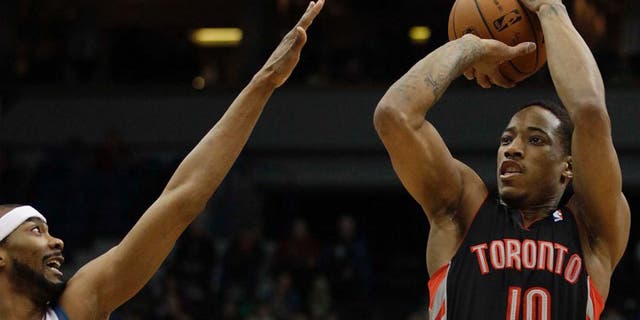 DeMar DeRozan averaged 20.1 points per game for the Raptors last season, but did so about as inefficiently as possible.
DeRozan shot a career-low 41.3 percent from the field, which included a mark of just 28.4 percent from three-point distance.
DeMarre Carroll was the team's big offseason acquisition, and he managed to incorporate the three-point shot into his offensive game, which only made him more valuable while on the court locking up opponents with his above-average defense. Carroll hopes DeRozan can similarly improve his long distance shooting, because it would make the Raptors as a team that much stronger.
"Kyle Korver told me the three-point shot is just more repetition. The more you shoot it, the better you'll get at it. I feel like if DeMar will keep working on it, it will eventually come," Carroll said, in an interview with The Toronto Sun.
"I'm pretty sure there's a lot of other things he worked on in his game and he's a dominant offensive player (already)," Carroll said. "So I think if he adds that three-point to his game it'll take us over the top."
Last year was a step back for DeRozan; injuries limited him to just 60 regular season appearances, and he failed to repeat as an All-Star. He looked great at The Drew League this summer, so perhaps he can carry that momentum over to the NBA season.
(h/t: The Toronto Sun)