DeMarco Murray 'loves' playing for the Eagles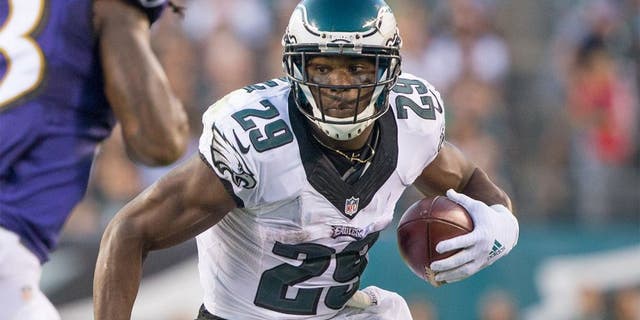 After missing several practices throughout training camp, Philadelphia Eagles running back DeMarco Murray's place within his new offense was solidified during the Eagles' second preseason matchup against the Ravens. Murray capped off a scoring drive with the first team offense by plunging into the end zone from two yards away.
Head coach Chip Kelly's decision to hold Murray out of practices turned out to be nothing more than a headline. In fact, Murray not only loves being in Philadelphia, but he also loves playing in Kelly's offensive scheme. As Eagles running backs coach Duce Staley pointed out earlier in the offseason, Murray is a perfect fit for the scheme.
"I love it here," Murray said following Tuesday's practice, per Matt Lombardo of True Jersey. "I love this scheme, and I love what we're doing here, obviously it's a continual process learning the offense and learning the blocking scheme and what not, but it's been great so far.
"I think it's a great scheme. We have a lot of playmakers that make defenses load up the box, but we have a lot of playmakers on the outside. Obviously the quarterback as well.
One difference for Murray in 2015 will be the formations that he runs out of. In Dallas, Murray was mostly used as a single back with quarterback Tony Romo under center. In Philadelphia, Kelly likes to use a lot of shotgun formations, and he isn't afraid to run the football. Murray believes that this change will ultimately lead to more individual success for him.
"We didn't do much of that in Dallas," Murray said, referring to shotgun runs. "I did it some in the past. Hopefully we'll get more downhill runs and get in the home position. Just the way we run and the plays, I think it's hard for teams to scheme one on one from the formations we run our offense out of."
Murray has experience running out of the shotgun formation from his collegiate days at Oklahoma. If Murray can make a smooth transition to the Eagles' scheme, there's no reason to expect him to experience any drop off in production on a per play basis in 2015.
(h/t True Jersey)