Delanie Walker: Training camp important test for Mariota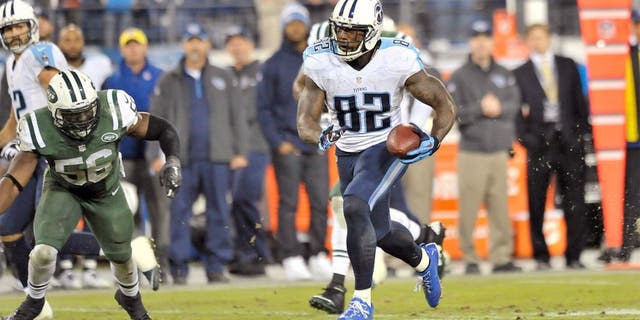 NEWYou can now listen to Fox News articles!
Titans fans may be breathing easier now that rookie quarterback Marcus Mariota is finally under contract, but the team's leading receiver last season said he was never worried about the situation.
Tight end Delanie Walker told the Tennessean he was confident a deal would eventually get done, not to mention the fact the Titans were in already in decent shape at the position with backup quarterback Zach Mettenberger on the roster.
"I mean at the end of the day we still have Zach; I think Zach is a great quarterback. I think Marcus is a great quarterback. So I wasn't too worried and I don't think the Titans were too worried," Walker said, via the Tennessean. "We do want to get him signed, which we did, and I'm glad that it's done."
Now, as the team prepares to report for training camp at Saint Thomas Sports Park July 30, Walker said the next step for Mariota will be adjusting to practices with pads on. The Heisman Trophy winner earned solid reviews during the team's OTAs and minicamp, but will be facing contact for the first time.
"It's about getting in there with pads on now. It's about knowing that guys might hit you because we do have pads on," Walker said. "That's the kind of practice he needs, to see the game speed and how much different it is from college."
Head coach Ken Whisenhunt has already said the team expects Mariota to start the Sept. 13 season opener on the road against the Tampa Bay Buccaneers.
As for Walker, after a long offseason, he said he's ready to see how it all plays out.
"I can't wait for camp to start," he said. "The best part of football is getting into camp and then getting out of camp."
(h/t The Tennessean)
Photo credit: Jim Brown/USA TODAY Sports