Del Rio: Chiefs forced Raiders' offense 'off the rails' to end season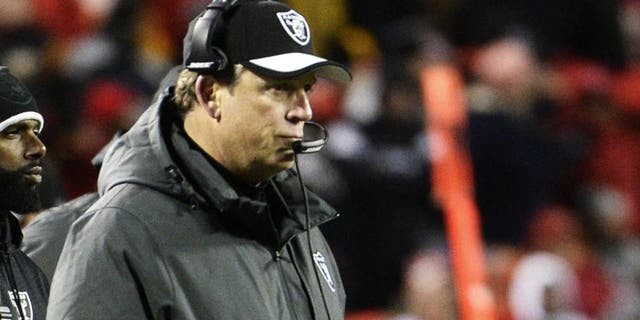 Head coach Jack Del Rio had a hard time recognizing the offense his Oakland Raiders fielded in Week 17.
Derek Carr and Co. recorded only 205 total yards (157 passing, 48 rushing) against the Kansas City Chiefs on Sunday. They failed to find the end zone for the first 58 minutes of the game, too.
Del Rio, via ESPN: "At one time we were red hot. I feel we lost our way a little bit, got off the rails. We had nowhere near the productivity we expected to have."
That fact has to be deflating for a head coach who wanted his young team to end on a high note. Instead, they regressed from the big-play offense which once led the league in passing touchdowns of over 25 yards.
Their breakdowns started up front, even with Pro Bowl opponents Justin Houston and Tamba Hali out. Oakland still surrendered six sacks; Carr was blamed for holding the ball too long.
Said Carr: "Whether I was holding it too long or something else happened -- you've got to stay on schedule. That's something we have to do better, and we will do better. This time around, I'm not lost to tell you how we get better. When I was a rookie, I didn't know."