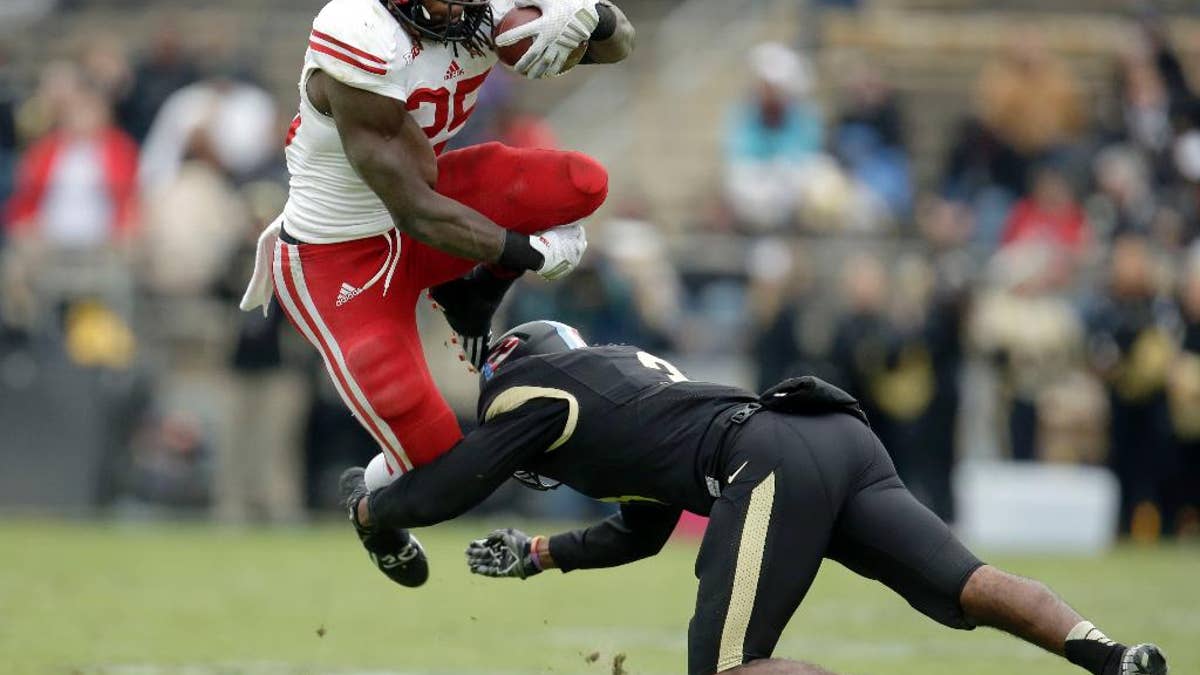 MADISON, Wis. – It sounds like good buddies Melvin Gordon and Ameer Abdullah will be maintaining radio silence the rest of the week.
If that's the case, two of the nation's top running backs will communicate next on Saturday, when Gordon and No. 22 Wisconsin host Abdullah and No. 11 Nebraska in what could be a Big Ten West division elimination game.
Let the games begin between the potential Heisman Trophy finalists.
Abdullah texted Gordon on Monday morning. "But he said, 'I'll see you Saturday,' so it don't sound like we'll be talking until then," Gordon said with a chuckle. "Yeah, that's pretty much what it sounded like, that last text."
Gordon and Abdullah are the headline acts, and deservedly so. Gordon leads the country at 166.8 yards per game; Abdullah leads the country with 187.9 all-purpose yards per game. Their friendly footrace on the rushing charts would alone make for a compelling story line.
But this game has much broader implications.
The Cornhuskers (8-1) and Badgers (7-2) are tied with Minnesota atop the Big Ten West with 4-1 league records. The winner gets an edge in claiming the division title and the trip to Indianapolis for the conference championship game.
This is exactly the position that Wisconsin was hoping to be in despite losing to Northwestern 20-14 on Oct. 4. Since then, the Badgers have won four straight by double digits.
The running game is rolling and the nation's top-ranked defense just keeps getting better. It's happening just in time for the defining three-game stretch to end the regular season, with home games against Nebraska and Minnesota sandwiched around a trip to Iowa.
But the Badgers' collective focus is trained entirely on the Cornhuskers.
"It's going to be a great environment for us," coach Gary Andersen said. "It's the only game that matters. A lot of that is coach-talk, but it's really true."
This will be Wisconsin's biggest home game under Andersen since he took over here in 2013, though the even-keeled coach himself would rather not get involved in such talk.
"We're going to approach it exactly the same," he said.
It is a sound plan given the overwhelmingly positive results of late. The two-quarterback system with starter Joel Stave and mobile, change-of-pace junior Tanner McEvoy is finally gaining traction to balance the offense.
Until last week, the Badgers alternated Stave and McEvoy by series, with Stave getting the majority of playing time. But in last week's 34-16 win over Purdue, Stave and McEvoy alternated at times by play.
Stave still saw the majority of snaps, but the system worked with Stave going 19 of 29 for 219 yards with two touchdowns, and McEvoy running for a 13-yard score.
"Just the flexibility within the offense is huge for us," Andersen said.
But make no mistake — all eyes at Camp Randall on Saturday will be on the highly anticipated duel between Gordon and Abdullah. Gordon is pretty sure each team's defense is already a little annoyed by the all the Heisman hype.
"And they're going to be tired of hearing it come Saturday," Gordon said. "They're going to be ready to shut both of us down. Me and him, we're going to have to run hard — one cut and go."
Only the Badgers defense would rather throw up a roadblock to Abdullah.
NOTES: Andersen said starting DL Konrad Zagzebski (ankle) and FB Derek Watt (quad) should be ready for Saturday. Zagzebski got hurt last week against Purdue, and getting the senior back may be critical to help the Badgers slow down Abdullah. ... LB Vince Biegel was named the conference's defensive player of the week after registering seven tackles and three sacks against Purdue. ... Wisconsin has held three straight opponents to less than 100 yards rushing.
___
Follow Genaro Armas at http://twitter.com/GArmasAP