Defensively, Titans find themselves needing to tackle better to fix struggles against run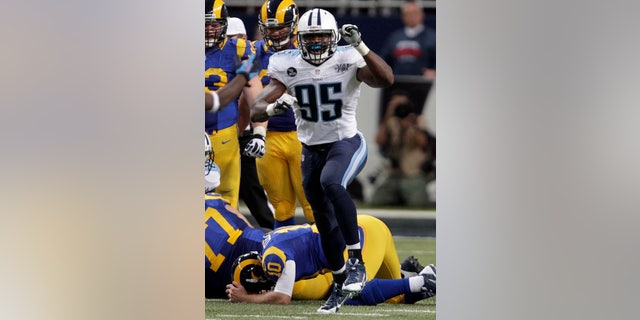 NASHVILLE, Tenn. – The Tennessee Titans have a few holes in their otherwise very stingy defense, and lately opponents have been running right through them.
The Titans rank ninth in points allowed per game and seventh defending the pass. But a unit that started off this season giving up very few yards on the ground now is among the worst in the NFL at 27 overall, having given up more yards rushing in the past four games than the week before.
Coach Mike Munchak said the Titans (4-4) have to tackle better and improve against running quarterbacks.
"That's probably the thing that has hurt us more the last two or three weeks, the quarterback running the football," Munchak said. "That's kind of kept drives alive, which has made it harder for us. It's right there. It's all fixable. It's something we could do very easily. We've done it this year. We've just got to do a better job of swarming and tackling and getting them on the ground.
The Titans allowed only 32 yards rushing in their season opener at Pittsburgh. When they held the Jets to 91 yards rushing, they were tied for 10th against the run a month into the season.
Then they started a stretch against teams with mobile quarterbacks and gave up 120 yards rushing to the Chiefs with Jamaal Charles running for 108. Russell Wilson ran for 77 of Seattle's 151 yards, Colin Kaepernick scampered for 68 and a touchdown as San Francisco racked up 153 yards.
The Titans gave up a season-high 160 yards rushing in last week's 28-21 win at St. Louis with even Kellen Clemons breaking loose for a 16-yard gain. Rookie Zac Stacy ran for 127 yards, the most the Titans have allowed to a player this season.
Defensive coordinator Jerry Gray said Thursday the Titans need to pay attention to detail. He also counted three missed tackles on Stacy's 32-yard run. Take away that run and Clemens' scramble, Gray said the Titans would have given up approximately 3.5 yards per carry and 112 yards on 32 carries.
"We'd have been happy with that," Gray said.
The result has the Titans giving up 122.5 yards rushing per game. Tennessee plays the Jacksonville Jaguars (0-8) on Sunday, and Maurice Jones-Drew has run for 466 yards in his last three games in Nashville. Jones-Drew has been working his way back from a foot injury but had a season-high 70 yards rushing last week.
Defensive end Derrick Morgan said they worked on stopping the run in practice Wednesday and know that they have to do just that if they want to be successful. They also know what will happen to them if they're not ready to gang tackle Jones-Drew.
"He has an attitude about it to where he's not going to be denied," Morgan said. "That's the type of attitude he has when he runs the ball. He's not going to go out of bounds when he gets chance. That's what we're dealing with this week."
Safety Bernard Pollard said the Titans haven't clicked well even in games when they knew what the opponents would do to them like the 49ers with their read option. He sees the Jaguars wanting to run at least 30 times and rested coming off a bye week providing a good test.
"This is right here is where you set the tone for the playoffs," Pollard said.
Notes: RT David Stewart (shoulder) missed another practice Thursday. The Titans will see what he can do Friday, though Munchak said playing the Colts on Nov. 14 could weigh into the decision whether to try hold Stewart another week. ... LB Moise Fokou (left knee) took part in individual drills for the first time since getting hurt Oct. 13 in Seattle. CB Tommie Campbell (shoulder) missed a second straight practice.
___
AP NFL website: www.pro32.ap.org