Decision looming for Rangers: What to do with Joey Gallo when rosters expand?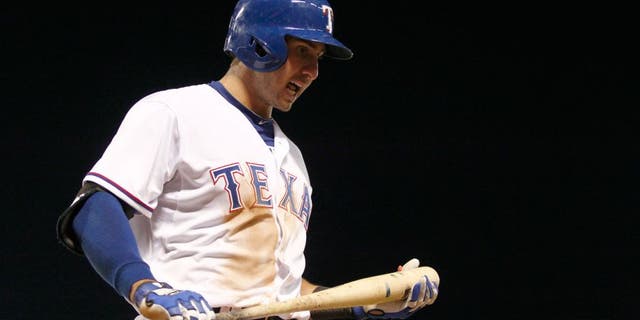 Texas Rangers super-prospect Joey Gallo made a quick impression when he was called up to the major leagues earlier in the summer. In a brief stint with the Rangers, the 21-year-old crushed five home runs - and most of them were tape-measure blasts reflecting the kind of power he exhibited on a regular basis in the minors.
However, Gallo is still rough around the edges and showed it by striking out 43 times 98 plate appearances. He was optioned back down after a few weeks and is currently struggling with Triple-A Round Rock, hitting just .188/.291/.446 with 13 homers and 84 strikeouts in 213 plate appearances.
In a new question-and-answer column for the Dallas Morning News, Gerry Fraley was asked by a fan whether the Rangers should promote Gallo once rosters expand on September 1 or keep him in the minors so he can focus mentally for the 2016 season.
It's been a busy season for Gallo, traveling around from the minors to the majors like he has, and the Rangers already have a surplus of left-handed hitting - especially if Josh Hamilton is healthy.
Fraley's response to the question was the following:
With the Rangers battling for a Wild Card spot in the American League, they'll have to make this decision in the coming weeks.

(h/t Dallas Morning News)