Dead arm? Thomas says Manning throwing 60-yard bombs in camp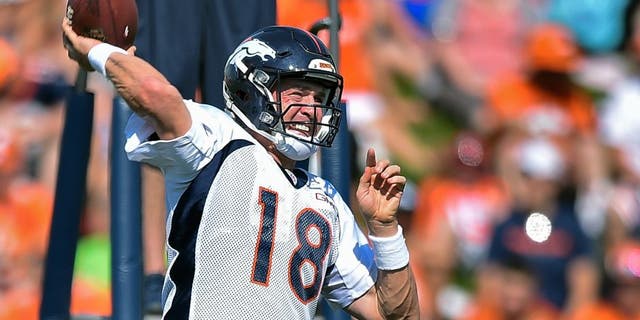 One of Denver's Pro Bowl receivers is back on the field. The other is back in the trainer's room. And the guy charged with getting them the ball apparently looks like a kid again.
On the same day Demaryius Thomas participated in his first full practice, Emmanuel Sanders had to leave practice early with a sore right hamstring.
"He was having a great day, made a lot of big plays and was just trying to get a ball and felt something," coach Gary Kubiak said. "Obviously we're going to be smart there."
"I shook off most of the rust," Thomas said. "It feels good to be back out there, to run more than two or three routes at a time. I look forward to getting into better shape and going even longer."
Then when asked whether quarterback Peyton Manning has lost any zip at age 39, Marshall said the football is getting to him faster than ever, and Manning can still put some air into the deep passes, too.
"He threw a couple posts today, probably 50-60 yards and I'm like, `Whoa!'" Thomas said. "That makes me excited."
Thomas, who signed a five-year, $70 million deal last month, added that he's not worried about rediscovering any rhythm with Manning.
"It's my fourth year with him, I don't think you can lose it that quick," he said.
Thomas did acknowledge he was still getting used to the new offense where certain code words now mean different routes. He's also getting re-accustomed to physical cornerbacks.
"We've got two great ones," Thomas said. "So, it ain't easy."
Asked who's harder to face in practice, Chris Harris Jr. or Aqib Talib, both of whom also made the Pro Bowl, Thomas demurred.
"Huh? Next question," he joked. "I hate going against both, that's what I'm going to say."
Sanders, who missed much of last year's training camp with a strained quadriceps, had been getting plenty of passes thrown his way as Thomas worked on his conditioning after missing the offseason program.
Linebacker Brandon Marshall (foot) also returned to team drills for the first time.
Sanders was one of four players leaving practice early. Linebacker Steven Johnson (knee), defensive end Derek Wolf (head) and cornerback Curtis Marsh (quad) also left, and linebacker Danny Trevathan was ill.
Denver's depleted D-line got a boost with the return of Malik Jackson (calf) and the signing of veteran nose tackle Sione Fua, who took the roster spot of punter Karl Schmitz.
Thus ended one of the league's best feel-good stories of camp. Schmitz, a Bermuda-born YouTube sensation whose last in-game kick came in 2008, showed a strong leg but plenty of nerves. His fate was sealed when incumbent Britton Colquitt accepted a $1.4 million pay Tuesday and the Broncos continued to have health issues along the D-line.
"I think that he will make it in this league," Kubiak said. "I'm really proud of his work. But that's tough anytime guys do everything for you and you have to let them go. We had a good talk this morning and I just told him to stick with it. I think that he will make it somehow, some way."
NOTES: Left tackle Ty Sambrailo has been working with the starting offensive line since Ryan Clady's season-ending knee injury in May. On Thursday, he was joined by fellow rookie Max Garcia at left guard and center Matt Paradis, who spent his rookie season in 2014 on the practice squad. Garcia replaced Ben Garland and Paradis replaced Gino Gradkowski.
"Hey, we're going to be young, we know that. But we're going to play our best five and believe me, those two guys are in the mix," Kubiak said.
The right guard is Louis Vasquez, and eight-year veteran Ryan Harris, signed after Clady's injury, has surpassed Chris Clark at right tackle.