De La Rosa looks to stay hot in San Diego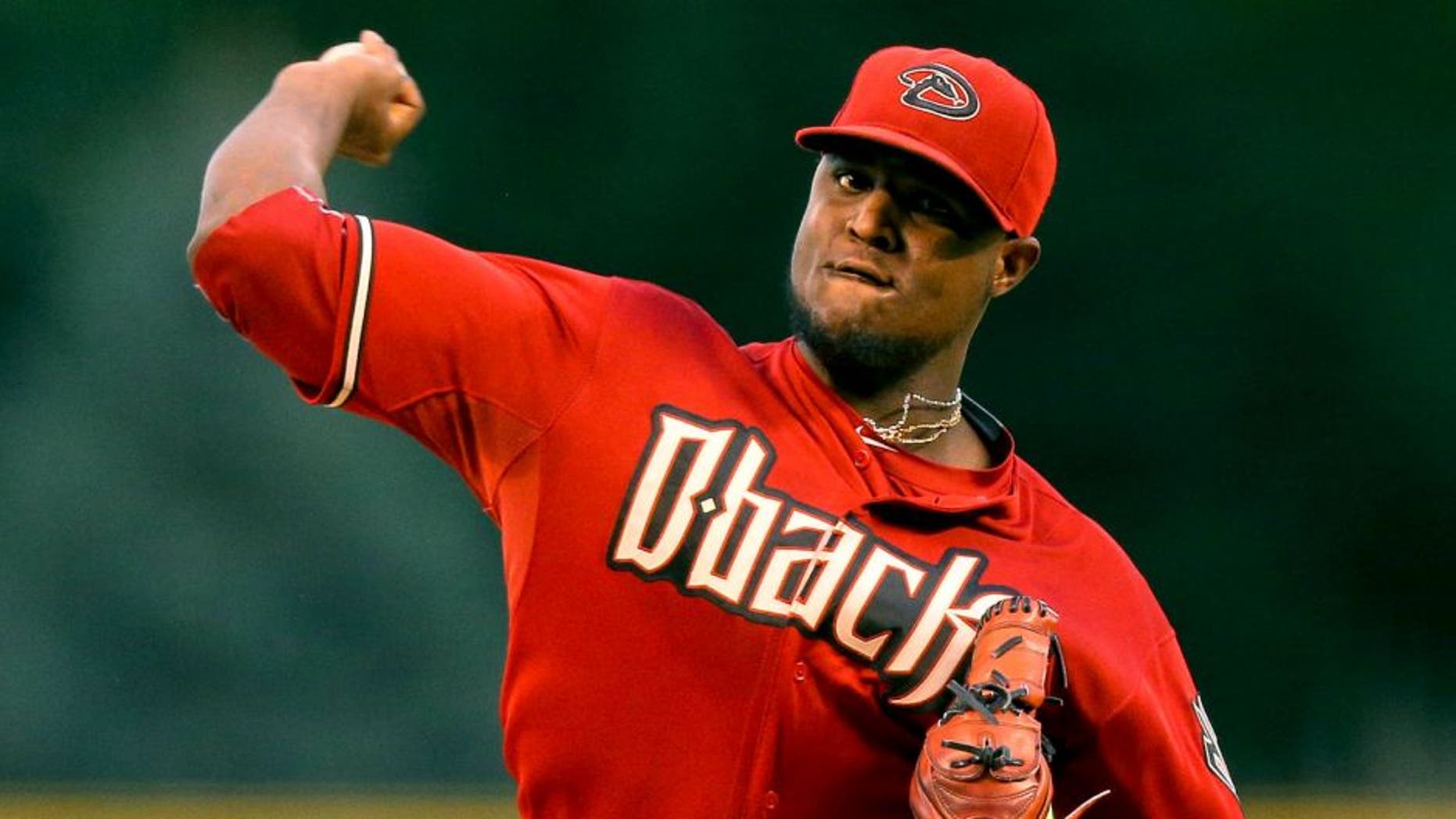 The NL leaders in wins since the All-Star break are calculable: Jake Arrieta and Zack Greinke with 10 followed by Madison Bumgarner and Clayton Kershaw at nine.
After that, a group of three stands at seven, and among them is Arizona's Rubby De La Rosa.
The right-hander entered the season with eight career victories, which he can match in 13 starts since the break Friday night in San Diego as the Diamondbacks and Padres begin a three-game series.
De La Rosa (13-8, 4.60 ERA) is 7-3 with a 3.88 ERA in his last 12 starts, matching Jake Peavy and Michael Wacha for fifth-most wins in the NL in that time. The 26-year-old gave up a hit with four walks in 5 2/3 innings of last Friday's 2-0 victory in San Francisco.
"He spotted his fastball and I thought he used his sinker a lot more tonight," manager Chip Hale told MLB's official website. "He mixed his pitches. He threw a lot of sliders. He kept his composure out there."
That's always been the case against the Padres with a 3-0 record and 1.38 ERA in four starts with the wins coming in three this season. De La Rosa has silenced Justin Upton (0 for 10), Matt Kemp (1 for 10) and Derek Norris (1 for 9), but Wil Myers (4 for 9) and Yangervis Solarte (4 for 10) have had some success.
De La Rosa is up against Casey Kelly, who makes his first big league start this season. Kelly (0-0, 4.50 ERA) gave up a run and five hits in two innings of relief in Saturday's 10-2 loss in Colorado for his first MLB appearance since making six starts in 2012 and going 2-3 with a 6.21 ERA.
The right-hander was 2-10 with a 5.16 ERA in 31 games - 17 starts - with Double-A San Antonio and Triple-A El Paso this season. The 25-year-old was awful in losing his only start against Arizona in 2012, giving up six runs and eight hits in 2 1/3 innings.
The Padres (72-81) are a game back of the Diamondbacks for third place in the NL West after taking the last two of a three-game home series with San Francisco. In Thursday's 5-4 win, Norris was 3 for 4 with a home run and two doubles, tripling his extra-base hit output from his previous 10 games.
It was the third win in four games and second straight walk-off victory for San Diego, which is one defeat shy of a fifth straight losing season.
"It's too late this year," interim manager Pat Murphy said. "... I think if you look at the guys for the future, they're sending the message that, 'Hey, there's a lot to play for.'"
After Thursday's 6-3 loss, the Diamondbacks (73-80) settled for a split with the Los Angeles Dodgers after winning the first two. They're 4-3 on a 10-game road trip, and another loss would ensure them a fourth straight season without a winning record.
Since they last went over .500 at 62-61 on Aug. 23, they've won 11 of 30.
"We had high expectations going into this year, but we let some games get away," said Paul Goldschmidt, 7 for 16 with three home runs in his last four games. "We have a young team, but hopefully with some more experience, we can keep improving. ... Obviously, we want to be up there with the Dodgers and winning the division. We're not there yet, so we have to try to find ways to keep getting better."