Daytona race dissolves into wreckfest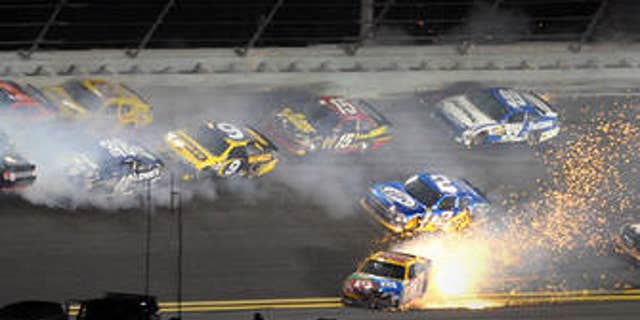 DAYTONA BEACH, Fla. – NASCAR should rename next year's Budweiser Shootout "The Last Man Standing."
With the return of pack racing at Daytona International Speedway came the return of multicar crashes throughout Saturday night's race. Twelve of the 25 drivers crashed out of the race. A similar scenario could play out in next Sunday's Daytona 500.
For years, pundits have referred to events like Saturday night's as "races of attrition." But nothing could compare to what we experienced -- or what eventual winner Kyle Busch experienced. At times, he appeared destined to bring home just the steering wheel and the trophy.
The wrecks came early and often. David Ragan ignited the first, a nine-car melee following contact with Paul Menard 10 laps into the race. Ragan hooked Menard on the left side and the No. 27 was finished for the night.
Clint Bowyer had trouble keeping his nose clean and wiggled twice before his new Michael Waltrip Racing teammate Martin Truex Jr. made contact with Bowyer's No. 15 Toyota and sent in on a wild ride through the grass in Turn 1 on Lap 32. Fortunately, with Bowyer's wreck, he only took out himself -- albeit temporarily.
The competitors were driving on the ragged edge throughout the race, but the save of the evening occurred 16 laps later when Busch was tapped by Jimmie Johnson but gathered up his No. 18 from literally sideways on the apron to back in the race.
Busch explained the miraculous save as "stab and steer -- and some braking.
"These left-side mirrors are so touchy, so I tried going down slowly and Jimmie just must have been there a little bit and turned me sideways and got me on the apron," Busch said. "Scared everybody half to death - including me."
The madness continued on Lap 55, as drivers continued to find problems when cars weren't lined up properly with one another while drafing, this time when Marcos Ambrose spun out Joey Logano and consequently sent four additional cars to the garage.
Logano believes that the current speeds contributed to the high number of incidents.
"Right now these cars are going pretty fast around here," Logano said. "It just depends on where you get hit and how hard you get hit. Right when you thought you were all right to ride and (would) be all right, you get turned around."
The last time pack racing was in vogue there was plenty of riding around that occurred, particularly after NASCAR dictated that drivers refrain from riding each others bumpers. Not long after, the evolution of tandem drafting occurred.
However, on Saturday, the ride-and-wait strategy of waiting to make a move failed most drivers. Fourteen laps after Logano retired -- along with seven of his competitors -- two-time Shootout winner Jeff Gordon moved up into Kurt Busch, then was launched by Johnson from behind. Gordon rode the wall out of Turn 4, then started flipping toward the frontstretch.
By the final restart on Lap 81, only four of 25 cars -- second-place Tony Stewart, fourth-place Brad Keselowski, sixth-place Greg Biffle and seventh-place Ryan Newman -- were on track to finish the race without incident.
Yes, with no points on the line, competitors will ramp up the intensity for the Shootout. Despite the carnage, the general consensus of drivers was gratitude for placing the responsibility of racing back in the competitors' hands.
"NASCAR asked the teams and the drivers what we could do to make it better," said Stewart, the defending Cup champion. "My point is, this is better than having to sit there and stare at the back of a spoiler for 500 miles and not be able to see where you're going half the race.
"We had control of what lane we got to run in. We got to move whenever we wanted. You didn't have to not move because you had a guy behind you that you had to rely on making your decision on what he had to do also. We had more control as drivers today."
But for drivers, practice and common sense accompanying that control will go a long way to ensuring they're running at the end.
"It just takes a little bit of patience and a little bit of thinking on the parts of everybody on the racetrack," said Kevin Harvick, a victim on Lap 54.
"All the wrecks tonight have been caused by people hitting in the left-rear. I just hate it for everybody on our Budweiser team. The car was fast, in position to do the things we needed to do. Man, you just can't hit guys in the left-rear.
"I think the biggest problem is the tandem racing has been so easy for these guys to stay attached that some of them haven't raced in pack racing. You get those big runs and things are going to happen a lot faster than they used to. They are just going to have to be a little more patient."
He who has the horses ... Doug Yates was beaming after the first two Daytona 500 practice sessions on Saturday.
The second-generation engine builder had every reason to be proud. After months of preparation with NASCAR's new electronic fuel injection (EFI) systems, Roush Yates Engines topped the first Budweiser Shootout practice (Matt Kenseth 201.762 mph) on Friday and Greg Biffle posted the fastest laps in both 500 practices on Saturday. Six Fords in all were among the top 10 during the first practice with Biffle setting the mark of 193.395 mph. Biffle's best afternoon lap was 193.241 mph.
Defending Daytona 500 winner Trevor Bayne was second quick, just 0.021-seconds off Biffle's pace.
"We're really excited about coming to Daytona," Yates said. "A lot of hard work was done by the guys at Roush Yates engines and the engineers. To come to the racetrack for the first time with EFI and to be fast is really exciting."
Yates is among the majority grateful that the emphasis of Speedweeks is back on horsepower rather than worrying about keeping the engines cool due to tandem draft
"Every winter you come test, and there seems to be a different theme," Yates said. "So you go back home and you work hard and you try to get organized so you can come back down here and win the race. We thought this year was going to be more about power. When two cars are hooked up, you need power and you need cooling but the power is a little less significant.
"So we went home knowing we might need more RPM capability and definitely power is going to be a big deal this time. And we're really proud with how fast our Fords so far."
And the Ford drivers are grateful for the power. Biffle is looking for a bump following his miserable 16th-place finish in the points standings last year. It was the first time in three seasons that the No. 16 team did not qualify for the Chase for the Sprint Cup .
Following practice, Biffle said, "I feel really good."
"It's a testament to how hard these guys have worked because here the driver really doesn't do anything in qualifying," Biffle added. "So it's (crew chief) Matt (Puccia) and all these guys on the team who work at the track and the shop. They've worked really hard on these cars and the motors have been awesome. Doug and the guys have this fuel injection really dialed in and figured out. They're really paying attention to detail and worked really hard on the dyno and I'm just lucky I get to drive it.
"Trust me, I've been down here a ton of times where you're 23rd or 18th or whatever, so it's nice to be near the front or at the front."
Certainly, fuel injection has been a challenge for all engine builders and the manufacturers that have offered factory support. But as is the case with most engineers, Yates appreciates the challenge.
"The things fuel injection allows you to do with the engine is just really exciting," Yates said. "You can tune each cylinder individually with fuel and timing. As an engineer and an engine builder and the son of an engine builder, it's just really exciting to have something to build on.
"I haven't been this excited about coming to Daytona in a long time. Obviously, last year was a really good year for us, but with this new change, it's new and it's different. When you have a change it's an opportunity to get ahead."
Numbers game 1: Win for Kyle Busch in the Budweiser Shootout in six attempts. 2: Shootout wins for the Busch brothers; Kurt won last year. 10: Cars remaining on the lead lap at the end of the race. $15,032: Winnings for 25th-place finisher Michael Waltrip, which won't cover the cost of repairing his car. Say what? Once Jeff Gordon, a two-time winner of the Shootout, was released from the infield care center: "That's the first time I've been upside down in 19 or 20 years."