Dawkins, Taylor lead Arizona to rout of Hawaii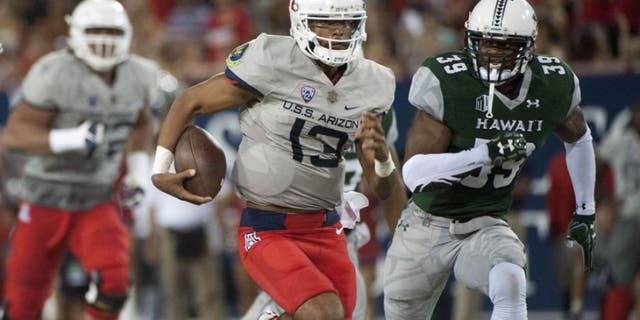 TUCSON, Ariz. -- Brandon Dawkins made the most of another start for injured Anu Solomon, especially in the first half.
The Arizona redshirt sophomore ran for three touchdowns and passed for another, all in the first two quarters, and the Wildcats wrapped up nonconference play with a 47-28 victory over Hawaii on Saturday night.
With Solomon out with a knee injury for the second straight game, Dawkins, completed 16 of 21 passes for 235 yards and carried 15 times for 118 more.
"I've got to take advantage of my opportunity when I get it," Dawkins said, "and I feel like I did so these last couple of weeks."
Wildcats Freshman J.J. Taylor, thrown into extra duty with an apparent ankle injury to Nick Wilson early in the game, rushed for 168 yards in 18 carries, including a 61-yard touchdown dash down the sideline.
"Not surprised at all," Rodriguez said, "and obviously when Nick got hurt, he was the guy. He's a tough, competitive player. He's got a lot of shiftiness to him. He really is mature beyond his years at this level of football."
Solomon, a three-year starter, might have a hard time getting his job back.
"That's a fair question but it's not fair for me to answer," Arizona coach Rich Rodriguez said. "I think Anu's a really good quarterback when he's healthy. I'm hoping he's healthy so we have two starting quarterbacks."
Dawkins said he felt much more comfortable than he did in his first start last week against Grambling State."
"Just like I always preach, the more reps I get, the better I get," he said.
Rodriguez said he didn't know how long Wilson would be out so Taylor "is going to get a chance to play a lot."
Junior college transfer Dru Brown replaced Ikaika Woolsey at Hawaii quarterback in the second half and directed three touchdown drives. Much like Dawkins' situation, the question now is whether Brown keeps the job.
"We were stale, we weren't doing anything," Hawaii coach Nick Rolovich said. "Dru went in there and played well. The bye week will be a good time for us to look at stuff. I think we are going to have a pretty good discussion, but I thought Dru was executing pretty well."
The Rainbows (1-3) fell to 0-5 all-time against Arizona and have lost nine straight road games.
Arizona (2-1) amassed 363 yards in the first half to lead 34-7.
Dawkins rushed for 111 yards and completed 12 of 15 passes for 171 yard the first two quarters alone.
The Wildcats scored TDs their first three possessions
The drives of 88 yards in eight plays, 82 yards in six plays and 24 yards in one play used up a combined 5 minutes and 47 seconds.
Dawkins scored on a 24-yard run for the first Arizona touchdown and a 14-yard run for the second.
On Hawaii's next possession, Demetrius Flannigan-Fowles intercepted Woolsey's pass at the Hawaii 24. Tyrell Johnson scored on an end around on the next play and it was 20-0.
Hawaii (1-3) got on the board with a 15-yard touchdown pass from Woolsey to freshman John Ursua with 1:10 to go in the first.
But the Wildcats pulled away with two second-quarter scores. Dawkins connected with Shun Brown on a 56-yard touchdown pass play and scored again on a six-yard run.
RAINBOW INFRACTIONS
Penalties hurt the Rainbows all night, none more than the holding call that negated Woolsey's 48-yard touchdown pass to Dylan Colie. The score would have cut Arizona's lead to 20-14 in the second quarter. Hawaii also had a touchdown pass called back in the fourth quarter due to an illegal formation call but eventually scored on the drive.
In all, Hawaii was penalized 12 times for 95 yards. With a flurry of late penalties, Arizona was just as bad. The Wildcats were penalized 11 times for 105 yards.
USS ARIZONA
One of six crewmen still living who were on the USS Arizona when it sank, 93-year-old Lauren Bruner, was on hand when the University of Arizona commemorated the 75th anniversary of the attack on Pearl Harbor.
Among other activities, the university auctioned off three No. 75 jerseys, three helmets and two helmet-jersey combinations, with profits going to the USS Arizona Mall Memorial.
UP NEXT
Hawaii: Rainbows have a week off before opening Mountain West Conference play at home against Nevada.
Arizona: Wildcats open Pac-12 play next Saturday night at home against Washington, a team currently at No. 8 in the AP Top 25.