David Price needs to take road most traveled — the high one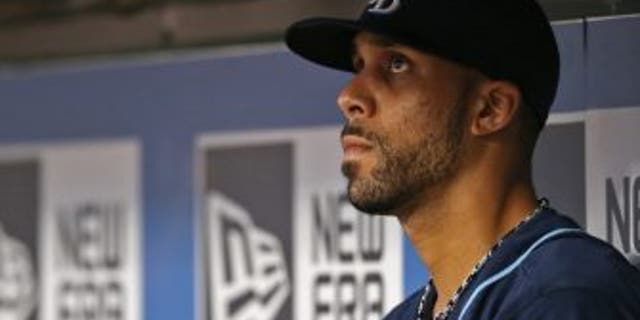 I wished that I had asked David Price one more question:
Why?
Why revive your feud with David Ortiz nearly eight months after seemingly settling your differences with him?
Why hit Ortiz on Friday night, then return Big Papi's verbal fire on Saturday?
Why get sucked in at all?
Mind you, I was grateful that Price agreed to be interviewed on FOX after sharing his thoughts on Ortiz with me and other reporters in the Rays' clubhouse at Fenway Park.
And, though I find Ortiz's pimping of home runs more entertaining than offensive, I'm not a pitcher. I'm not the one who, after experiencing the disappointment of giving up a home run, must endure the full Papi Preen, one eternal step at a time.
Ortiz said he lost respect for Price after the left-hander hit him with a 94-mph fastball in the back. Price, never denying that his act was intentional, said that he gained respect from "a lot" more people — people in the sport, a number of whom, he said, reached out to him afterward.
Mark Mulder, a former pitcher now working for ESPN, went public with his approval of Price after hearing the pitcher chide Ortiz on FOX, saying that "no one was bigger than the game" and criticizing Ortiz for likening baseball to war.
"New favorite player ---> David Price," Mulder tweeted.
I'll bet a number of current and former pitchers agreed with Mulder. And I'll bet that two of the Red Sox's old-school veterans, John Lackey and Jake Peavy, would have responded the same way that Price did to Ortiz's delayed reaction to his second homer in Game 2 of last year's Division Series — by drilling Ortiz, no matter how long it took to settle the score.
Ortiz said at the time that he lingered at home plate because he did not know whether the ball would go fair or foul. Price, who allowed seven runs in a 7-4 defeat that night, scoffed at that explanation and expressed disapproval with Ortiz, saying, "As soon as he hit it and I saw it, I knew it was fair — run."
Some who know Price say he was in no mood to publicly apologize for his criticism of Ortiz and subsequent Twitter rant against TBS analysts Dirk Hayhurst and Tom Verducci, but he did before the next game.
And, as Price so often does, he hit all the right notes.
"I reached out to him and I told him how much respect I have for him," Price said of Ortiz at the time. "He's someone that's always smiling, he's always having a good time, he's always there for his teammates. We've all seen that over the years. He takes the time for the little people.
"Every time he sees my little nephew, he takes the time to talk to him. Every time they're in town here, he takes the time to go over to my parents and to speak to my mom and dad. It was just an extremely poor decision on my part. It stinks."
Price also apologized to Hayhurst and Verducci for tweeting, "Save it, nerds," after hearing the two assess his performance on the network's postgame show.
"I hurt a lot of people, I embarrassed myself, I embarrassed my family, I embarrassed this organization," Price said. "It's not good. It's not good for baseball. It's not good for our team, especially at a time right now. I'm deeply sorry. I let my emotions completely take over this situation. I've never felt anything like that before in my life."
Now, fast forward to Friday night.
Was Price in control of his emotions?
Was he a good teammate?
Was he the example he wants to be?
The game was a series opener against the Red Sox. The Rays are trying to turn around their season. The last thing Price needed to do was put an extra runner on base, even though it turned out that the Red Sox did not score in the inning.
The risk did not end there, however. By hitting Ortiz, Price placed his teammates in jeopardy — specifically, Evan Longoria, the Rays' star third baseman. That's how baseball's version of vigilante justice works: You throw at my best player, I'll throw at yours.
Sure enough, Sox righty Brandon Workman threw behind Longoria after Price hit another Red Sox player, Mike Carp. (Price said that pitch was unintentional and apologized for it in his interview with FOX. The umpires could have justified ejecting him after either plunking; once he hit Ortiz, Price arguably lost the benefit of the doubt.)
Longoria never would criticize Price publicly, but you think he was happy to be set up as a target? Even Joe Maddon, who more than any manager encourages freedom of expression from his players, conceded to the FOX broadcasters the next day that he was "surprised" that Price hit Ortiz.
The talk before the series was that the teams, after a dustup at Tropicana Field last week, might renew hostilities. Maddon dismissed that notion, both before and after the benches emptied. But Price's grudge, it turned out, went back much further.
Forget Ortiz and his various insensitivities — he not only equated baseball to war, but also called Price "a little girl . . . a little b----." Forget, too, how Bob Gibson might have responded to one of Papi's many entries on Tater Trot Tracker's list of slow trots.
That's twice now that Price has come off as touchy, maybe even immature. And frankly, I'm starting to wonder what it might mean for him in the future.
The Rays' 23-34 record as of Sunday night is the worst in the American League. They seem increasingly likely to trade Price before the July 31 non-waiver trade deadline. At some point — whether he's in a pennant race with a large-market team after the deadline, or whether he joins such a club after becoming a free agent in 2015 — he's going to face far more scrutiny than he ever has with the Rays.
Then what?
Price, when he joined the Rays in 2008, was a fresh-faced revelation. The Rays had made him the first pick in the draft out of Vanderbilt the previous year. And there he was, coming out of the bullpen, helping his team reach the World Series.
He was — and is — smart, articulate and funny. He also remains one of the best pitchers in the game, the 2012 American League Cy Young Award winner and current major league leader in strikeout-to-walk ratio, even in the middle of an oddly inconsistent season.
The great ones all are competitors. The great ones all have egos. But if I've got one wish for Price, it's that next time, he takes his usual path. The one that would elevate him above all the nonsense. The high road.