David Beckham Looks To Bring Pro Soccer To Miami And Its Latino Fans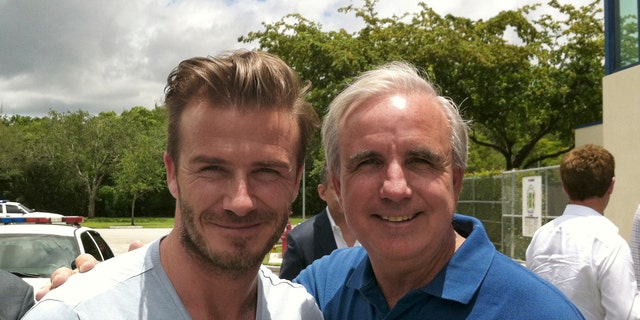 The Beckhams are taking their talents to South Beach. Or so it seems.
Soccer star David Beckham may be setting his sights on a new sports venture: A professional soccer team in Miami.
The newly retired Beckham toured Sun Life and Florida International University stadiums and met with Miami-Dade County Mayor Carlos Gimenez this past Saturday.
"We're ready and we're excited about the possibility of having top-flight professional soccer back in Miami," Gimenez said. "With people from all over the world living in our community, this is an ideal market for MLS and David Beckham is the right person to make it happen."
Part of the appeal in Miami may be a large Latino fan base, many who love soccer.
About 64.4 percent of Miami-Dade County residents are Latino, according to the U.S. Census.
Miami had a Major League Soccer team before; the Miami Fusion held matches in Fort Lauderdale from 1998 to 2001, before shutting down because of poor attendance.
This time around, city officials hope a team would succeed.
"The whole community loves soccer down here," FIU Executive Director for Sports and Entertainment Pete Garcia said.
Garcia said university officials delivered a presentation to Beckham and Marcelo Claure, president and CEO of Brightstar Corp. and a member of the FIU Board of Trustees, explaining the draw of a professional team in Miami. He said FIU officials hope Beckham and Claure will start an MLS team and choose FIU as their stadium.
"Our stadium is state of the art, brand new, and it's made for soccer," Garcia said.
He also noted that a majority of the university's 52,000 students are Hispanic, and many of them avid soccer fans.
"I know it would be successful now," he said.
Beckham started his career with Manchester United and also played for Real Madrid, Los Angeles Galaxy and Paris Saint-Germain. He became a global superstar not only in the sports world, but also through fashion and his marriage to a pop star wife, former "Spice Girls" singer Victoria.
Based on reporting by The Associated Press.
Follow us on twitter.com/foxnewslatino
Like us at facebook.com/foxnewslatino