Datsyuk's value only increases with Zetterberg out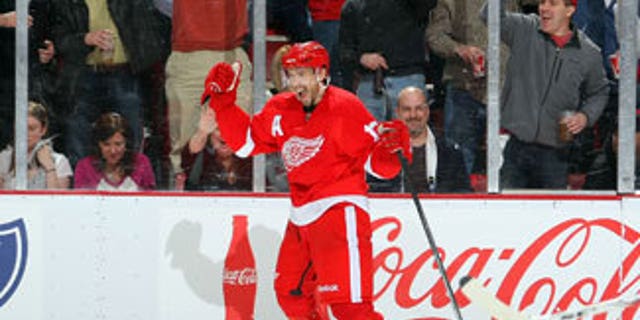 DETROIT -- Danny Cleary is not unlike many reporters who try to understand what Detroit Red Wings star Pavel Datsyuk is saying.
Cleary, whose locker is near Datsyuk's in Detroit's locker room at Joe Louis Arena, often has to listen closely to what Datsyuk says -- because hidden in between the broken English the native of Sverdlovsk, Russia, speaks is usually a gem of a thought.
"Very good sense of humor," Cleary said of Datsyuk after the Red Wings' optional practice on Thursday, a day after Datsyuk scored a goal and fired a team-high eight shots in a 4-2 win to open their Western Conference quarterfinal against the Phoenix Coyotes. "It sometimes takes him a while to spit it out, with the English and stuff, but if you listen carefully -- he's a real funny guy."
Sometimes intentionally. Sometimes unintentionally.
Good example: Datsyuk's response to a question last weekend about a goal he scored against the Chicago Blackhawks that helped spoil the regular-season finale for the defending Stanley Cup champs. Datsyuk was asked about a pass that Cleary made to him from the seat of his pants, nudging the puck over near Datsyuk's feet.
Was he surprised by the puck just sitting there?
"I always surprised when I have puck," Datsyuk said, smiling. "It's not easy now, anymore, to get puck, and I'm happy so far."
Datsyuk then unleashed the one-liner of the week -- which was not only funny, but apropos considering his increased role with Henrik Zetterberg sidelined by a lower-body injury to start the playoffs.
"Not fun … to have no puck," Datsyuk stated flatly, leaving the solitary thought to ruminate.
Ah, so that's why Datsyuk can rarely be found without the black rubber disc seemingly taped to the blade of his stick. He simply likes to have fun. Well, if that's the case he sure has plenty of it. Yet without Zetterberg, Datsyuk appears to have no problem letting the puck go either -- as long as it's the result of a shot. In Game 1 against Phoenix, he appeared to put an emphasis on scoring over merely dazzling the crowd with his keen stick handling.
"It's going to be very important to have Pav play well offensively, especially having Hank out," Red Wings captain Nicklas Lidstrom said. "Pav taking a lot of shots is something we want. He's got a good shot and it's so much harder to defend him, too, if he has that shot."
Back off to compensate for his speed and Datsyuk is capable of zinging one into the back of the net past defenders. Meet him head on and he'll turn it into a stick-handling/skating highlight reel.
"He's one of those magicians on the ice," Detroit defenseman Niklas Kronwall said. "He can do things that not a lot of guys can. He's been playing really well for us and we need him to play like that -- keep playing every night. It's going to be a huge factor for us."
And that's just what his teammates say. What's it like defending Datsyuk in an actual game, when he's having lots of "fun" with the puck on his stick?
Coyotes veteran defenseman Ed Jovanovski was asked that question on Thursday and actually stopped his response after a few words to chuckle a little bit.
"He's strong on his skates," said Jovanovski, who's in his 15th NHL season. "I mean … he's got more moves than a lot of guys in this League. You have to pay attention to where he is at all times."
Datsyuk is simply all over the place on the ice, which is also the way he is during interviews most times. The Red Wings have grown accustomed to his sense of humor and choppy English over the years, but they've really enjoyed watching him become an intricate part of their team -- on and off the ice.
"He's a funny guy to be around and he feels probably more comfortable now than he first did when he came into the League," Lidstrom said. "He's a leader in our locker room and he's an [alternate] captain. He brings a lot to our team, not only on the ice but off the ice, as well."