Data shows Niners' Kaepernick struggled the most in fourth quarter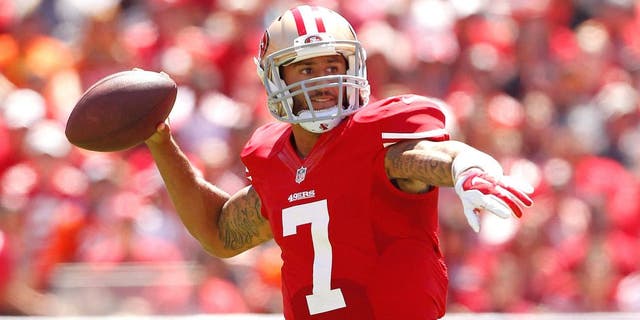 NEWYou can now listen to Fox News articles!
49ers' quarterback Colin Kaepernick's struggles were evident in 2014.
He turned the ball over more than he had in his previous three seasons with 10 interceptions and five fumbles lost (career highs) and took 52 sacks.
In the offseason, he worked with two-time MVP Kurt Warner to work on his throwing mechanics, among other things. However, beyond his delivery, Kaepernick's one glaring issue was his performance in the fourth quarter.
According to ESPN Stats & Info, Kaepernick became the first player in the past two decades with at least 100 fourth-quarter passes to not throw a fourth-quarter touchdown pass. His fourth-quarter passer rating in the final frame: 60.3. That ranked last among all signal callers in the NFC.
Niners' offensive coordinator, Geep Chryst, supported his quarterback earlier in the week, alluding to the changes along the offensive line as one of the reasons for his inconsistent play.
The stats, however, tell a different story. Kaepernick was just not good in the fourth quarter.
That will have to change if the 49ers expect to rebound from an 8-8 finish from last season.
(h/t SportsWorldNews.com)