Darren McFadden takes over third-down role in Dunbar's absence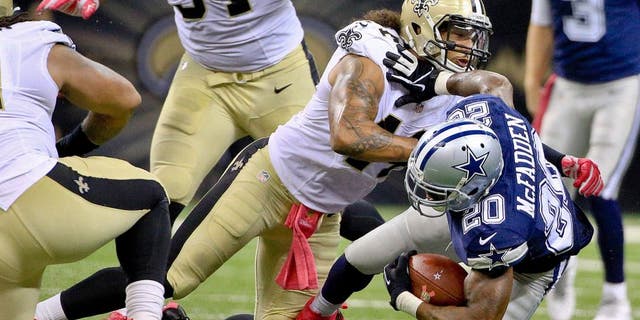 NEWYou can now listen to Fox News articles!
After losing Lance Dunbar for the remainder of the regular season, the Dallas Cowboys have turned to running back Darren McFadden as their new third down/passing down running back.
In Week 5, McFadden totaled 78 yards from scrimmage against the New England Patriots. He had nine catches for 62 yards in his new role, and he saw a season-high 10 targets in the passing game. He also tacked up 16 yards rushing on five carries.
"It's just felt normal to me to be able to go out there and take check downs from the quarterback," McFadden said to reporters Tuesday, per Charean Williams of the Star-Telegram. "It's something I've always done. I didn't really put a grade on my game or anything, but I just I felt like I did what I was supposed to do out there and took care of the ball and just tried to make plays when I could."
Also, for the first time all season, McFadden led the backfield in total snaps with 32 against the Patriots -- two more than Joseph Randle saw. McFadden's 32 snaps in Week 5 were also just seven less total snaps than he had seen all season prior to Week 5.
In his new role, McFadden will be asked to play a much bigger role in the passing game, not only as a receiver out of the backfield, but also in pass protection. Although he is confident that he can succeed in this role, it is also important to note that head coach Jason Garrett was pleased with what he saw from McFadden.
"He was productive," Cowboys coach Jason Garrett said. "A lot of his production came at the end of the game when they were dropping deep and forcing us to throw the ball underneath. But he had a pretty good understanding of what we were asking him to do, and when we threw him the ball, he seemed to catch it and go north and south and do some positive things for us. So he got some opportunities and seemed to take advantage of them."
Look for McFadden's role going forward to be dependent on game flow. If the Cowboys jump out to a huge lead, or maintain a close game, Randle will see the majority of snaps. However, if the Cowboys fall behind by several scores like they did in Week 5, McFadden will pace the backfield.
MORE NEWS: Want stories delivered to you? Sign up for our NFL newsletters.