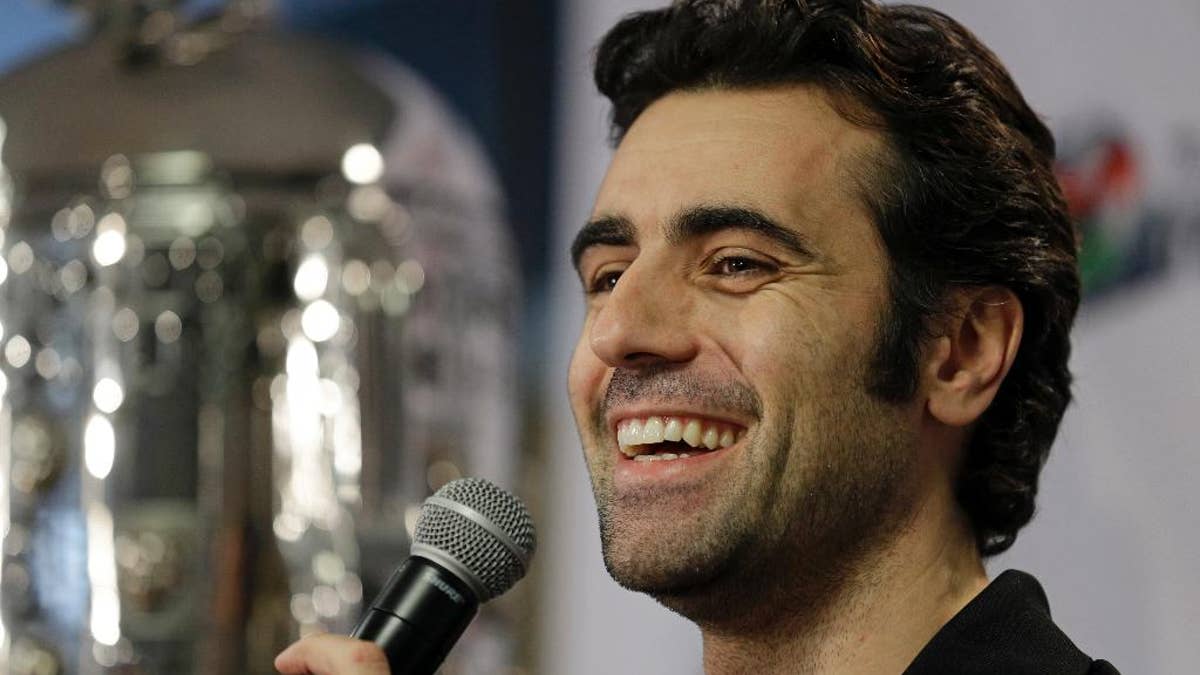 INDIANAPOLIS – This visit to Indianapolis Motor Speedway is like none other for Dario Franchitti.
Wearing jeans and a black polo shirt with the Target logo, the three-time Indianapolis 500 winner scoots through the paddock on a golf cart at his own pace. Aside from a team meeting here or there, he marches to a wide-open schedule.
Franchitti sleeps late and stays out socializing long after his driver buddies have called it a night.
Everyone suspected he would miss racing terribly following his reluctant retirement last November from injuries suffered in a career-ending crash at Houston. And even if he adapted to life outside of the car, his return to Indy as a spectator was expected to be gut-wrenching for Franchitti.
How wrong we all were.
Retirement clearly suits the Scot, who doesn't show any outward signs of regret over how his illustrious career came to a sudden end. He fractured his spine, broke his right ankle and suffered a concussion in the last-lap crash in October. Doctors warned him another hit could cause severe brain damage.
The injuries were obvious for months as Franchitti walked with a noticeable limp, got sore when he stood too long and would shift his weight uncomfortably or suddenly begin stretching. Not so clear was the trauma to his head. Franchitti remembers next to nothing from a five-week period following the crash.
He revealed Sunday during ABC's coverage of Indy 500 qualifying that the concussion symptoms are finally going away — seven months after the crash.
Franchitti, like all racers, started each day with a clear understanding of the risk vs. reward that came with his profession. He'd suffered heartbreak many times over, none more devastating than the death of best friend Greg Moore in a 1999 accident and, 12 years later, the death of Dan Wheldon, whom he often viewed as a little brother.
He had been in his own horrific wrecks, suffered broken bones and concussions and spent time out of the car because of injuries. He returned to the race car every time, fueling his addiction to speed with a rush of adrenaline like nothing else he has ever experienced.
Forcing him to walk away on doctor orders was a devastating way to end the career of a four-time IndyCar champion and one of the series' top ambassadors.
Perhaps he viewed it that way when the final ruling came down. But the Franchitti hanging around Indy the last three weeks is completely at peace. He watches the racing now from a Chip Ganassi Racing pit stand, where he studies replacement driver Tony Kanaan's progress and offers advice as needed.
For the first time in his life, Franchitti has clarity about racing and sees how "insane" it is. He survived an awful accident and Franchitti has a full life ahead of him.
"I feel really good, no sadness or regret at all," said Franchitti, who celebrated his 41st birthday on Monday. "For the first time ever, I'm not completely stressed being at Indy."
Did it hurt just a little returning to the site of his Indianapolis 500 wins in 2007, 2010 and 2012? Franchitti simply shook his head.
He realizes that could change Sunday when he leads the 33-car field as the honorary pace car driver. In that moment, he suspects it might hurt a bit.
It did in January at the Rolex 24 of Daytona, where he watched his brother, Marino, compete with his Ganassi comrades. Franchitti deliberately got to the track late on race day, perhaps because he knew how difficult it would be to not be a part of the pre-race pomp and circumstance, and to see an event unfold without him.
But life must go on, and it has this season for both Franchitti and for IndyCar. Even in retirement, his popularity dwarfs many of the current competitors. Crowds are common outside the Ganassi transporter, with fans waiting patiently for Franchitti to finish a conversation so he can sign their programs and pose for selfies.
He is stopped constantly as he moves around the massive Indianapolis facility. Little kids are still wearing shirts supporting his red No. 10 Target car. Everyone wants a picture, an autograph, a minute of his time.
Franchitti grants nearly every request, patiently posing for everyone, even the over-served race fans who persistently follow with a camera in one hand, a beer can in the other.
"You gonna race Le Mans?" one fan yells.
"No. I can't race anymore," Franchitti answers.
"Ever? Never again?" is the incredulous reply.
"Just the pace car," he shrugged.
Just the pace car. And that's good enough for everyone, Franchitti included.