'Dantallica': Dolphins head coach confesses love for Metallica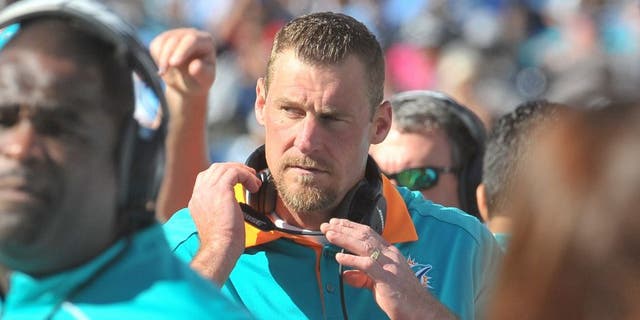 NEWYou can now listen to Fox News articles!
Dolphins players now have a new nickname to call their head coach: "Dantallica." Jim Brown USA TODAY Sports
Seeing as he's been a head coach in the NFL for less than a month, the world is still getting to know Dan Campbell of the Miami Dolphins.
He took over for Joe Philbin after he was fired and has immediately turned the team around -- for now. And while everyone knows Campbell is a tough guy who played tight end for more than a decade in the NFL, he let out a secret at practice on Thursday.
He's a huge Metallica fan. In fact, he once had the nickname "Dantallica," given to him by former teammate Shane Lechler.
"I'm a big country/Metallica fan. That's kind of who I am," Campbell said via Hal Habib of the Palm Beach Post. "I like classic rock, too, but that was something -- I really wanted to see them. So I stayed up and I knew the ticket box was going to be open at 8 and it was probably going to be packed, so I just decided to stay up. Anyway, I got there, I think I was fourth in line. So it worked out."
When asked what his favorite songs are, Campbell responded with a few, although he acknowledged that he could go on forever.
"Ride the Lightning's a good one," he said. "Master of Puppets. Unforgiven. Nothing Else Matters …"
It only seems fitting that Campbell -- a super tough guy who's appendix once exploded on a flight -- would be a fan of Metallica. Although, it does seem strange that he's also a country fan. He probably wishes he could play Metallica at practice, but his players probably wouldn't be on board.
"... Half those guys, I don't even know if they're going to know who they are," Campbell said. "It would probably do the opposite effect. It would probably drag them down."
MORE NEWS: Want stories delivered to you? Sign up for our NFL newsletters.