Daniel Surez hoping for another NASCAR first at Michigan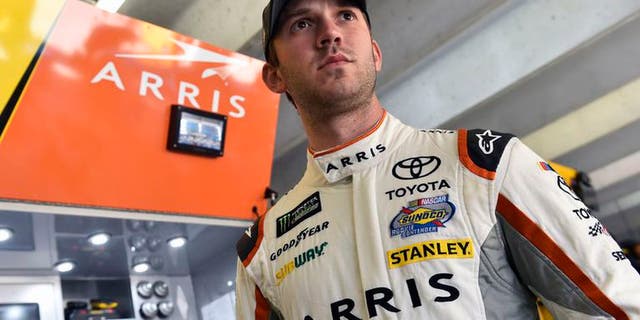 NEWYou can now listen to Fox News articles!
There is only one time you get to experience things first.
That makes Michigan International Speedway a special place for Daniel Surez, as this weekend hes revisiting the 2-mile track where he scored his first career victory in the NASCAR XFINITY Series last year.
The win served as a springboard to an XFINITY Series championship for Surez, who became the first Mexican-born driver to claim a title in one of NASCARs three national touring series.
Even though Surez went on to win two more races on the season at Dover and in the season finale at Homestead-Miami Speedway he said Friday at MIS that hell never forget his first XFINITY win.
I guess from last year on, I think its going to be always a special place, Surez said. It gave us confidence and momentum to move forward and to keep working and to eventually be able to get the championship.
Now Surez is looking for another first. He was supposed to defend his XFINITY title this year in the No. 19 Joe Gibbs Racing Toyota, but instead was thrust into an unexpected rookie season in the Monster Energy NASCAR Cup Series when Carl Edwards unexpectedly stepped away from the No. 19 Cup car.
Surez said he is drawing inspiration for that moment from the three first-time Cup winners who already have surfaced this season.
Ryan Blaney became the third such victor last week at Pocono, joining previous fellow first-timers Ricky Stenhouse Jr. and Austin Dillon.
Seeing all these kind of victories always gives you like an extra boost to keep working and keep digging because already Ryan and I, weve been racing together for a long time since the (NASCAR) K&N days, Surez said. Austin, obviously weve been racing for a while in the XFINTIY Series, and its very cool to see this new generation of drivers being successful in NASCAR.
I was very, very happy for Ryan last week. That was an incredible race and incredible win. Overall, I feel like we have to keep working on ourselves. We have to keep working on the race team. I feel like like Ive said were getting better, but its not easy. Its not easy to win races at all in the Cup Series.
Surez said he knows what he and his team need to do.
First they need to start running in the top five more consistently and finishing there. Then they need to take it one more step to get to Victory Lane.
Hes been showing progress, having finished a career-best sixth at Dover two weeks ago. He also has three seventh-place finishes, although hes still seeking that first top-five Cup finish.
You have to get there and then one day put everything together to get that win, he said. I feel like now, we are getting more comfortable running in the top 10. We have to keep working to make that top 10 be a top five and after that I feel like we can have a shot every weekend. Once you start running in the top five, you can be a contender.
NASCAR via Getty Images | NASCAR