Daniel Cormier thanks Brock Lesnar for his early Christmas present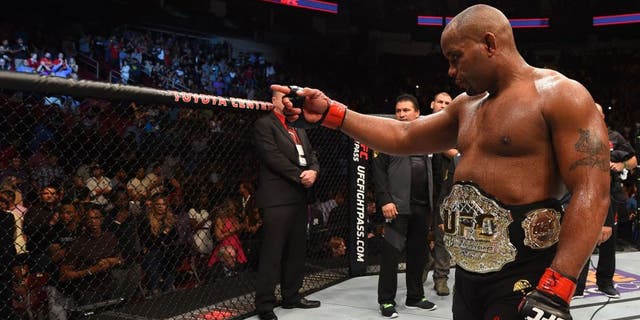 NEWYou can now listen to Fox News articles!
Daniel Cormier was already excited to fight at UFC 200 with a chance to avenge his only career loss to Jon Jones in the main event. But when he heard Brock Lesnar was on the card, he was over the moon.
Not only does Cormier consider Lesnar a friend, but his addition to the card on July 9 also hits the light heavyweight champion right in the bank account.
You see, Cormier gets revenue from the amount of pay-per-views sold. And Lesnar is a huge addition to the card that will likely garner an even bigger buy rate for UFC 200. In other words: Cormier is about to get paid.
"Brock Lesnar got on the card and Brock's a huge draw. So right as Brock was getting announced, I was at UFC 199 with Luke Rockhold. I started hearing these rumors so I started texted Brock. I'm like, 'Hey, Brock are you fighting? Tell me please.' He didn't respond. So I wrote, 'Hey, Brock, is it Christmas time in the Cormier household?' because Brock sells pay-per-views, I am obviously one of the guys that gets pay-per-view dollars. And he goes, 'Merry Christmas.' That's all he wrote back," Cormier told the "Opie and Jim Norton Show" recently.
I was like 'Brock you're the (expletive) man' and congratulations and welcome back, buddy. My wallet jumped out of my damn pocket. I had to pick it up off the ground. -- Daniel Cormier
Cormier isn't going to deny the added appeal to the UFC 200 card with Lesnar now serving as the co-main event.
During his previous stint with the UFC, Lesnar was a massive draw, routinely selling more pay-per-views than almost anybody in the history of the company. Lesnar's main event fight against Frank Mir at UFC 100 is still reported to be the biggest pay-per-view the organization has ever done.
It all adds up to more money for the fighters already on the card, and Cormier is more than happy to reap the benefits.
"Let me tell you one thing, Brock Lesnar: Welcome back. We love you," Cormier said with a laugh. "Especially if you're a guy that sees some of that pay-per-view revenue."
On a more serious note, Cormier is curious to see how Lesnar does in his return to the Octagon five years after his retirement in 2011.
Lesnar is a world-class wrestler who has routinely out-grappled his opponents during his previous fights in the UFC. But it's also a well known fact that the current WWE superstar was never a big fan of taking punches during his career.
Not that anyone in the UFC enjoys being punched. But Lesnar's reaction to getting hit leads Cormier to believe he might have some trouble against a fighter like Mark Hunt, who is arguably the most lethal knockout artist in the heavyweight division.
The result of the Hunt fight might ultimately determine whether or not Lesnar is back for one bout or if he gets the itch to stick around for even more competition in the future.
"I think it depends on how he does. He's fighting a tough guy in Mark Hunt. Mark Hunt can punch and Brock doesn't like to get punched all that much. At least he didn't before," Cormier said. "I think it will be good to see him go in there without his sickness. See if he can go in there and implement a game plan on Mark that he can go and take him down and do what he says he's going to do. It's a fun fight."
"If [Hunt] can time that uppercut on Brock, Brock's going to go to sleep. He's [42] years old but he is the king of the walk off knockout. He's so sure in his hands, he literally just turns away and the referee's like it's over, it's over!"
Hunt is currently a solid favorite over Lesnar at UFC 200, so it will be interesting to see how the heavy-handed veteran handles his matchup with the WWE superstar as he returns to the Octagon for (at least) one more fight.
Meanwhile, Cormier is in final preparations for his rematch with Jones as he looks to avenge the only loss of his MMA career and attempt to defend his light heavyweight title for the second time.