Daniel Cormier suffers torn groin muscle but hopes to return in early 2017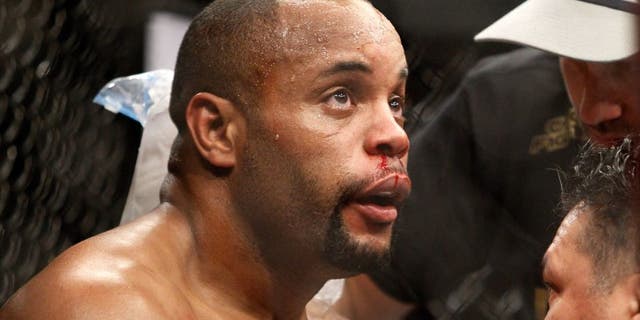 Daniel Cormier hopes to be back in action in early 2017 after being forced out of his championship main event at UFC 206 against Anthony "Rumble" Johnson.
As first revealed on the UFC Fight Night broadcast from Australia, Cormier suffered a torn adductor tendon in his groin that ultimately caused the light heavyweight champion to drop out of his fight on December 10.
"It's disappointing but I can guarantee no one is more disappointed than Daniel Cormier," Dan Hardy said during the broadcast. "The adductor tendon, it's high up in the groin, which affects all of your movement. From striking to grappling, any exchanges on the floor so it's the right thing to do for him. It's unfortunate but it's the smart thing to do for the champion right now."
The torn groin muscle is a similar injury that bantamweight champion Dominick Cruz suffered back in 2014 that forced him out of a scheduled fight after already dealing with two reconstructive knee surgeries as well.
The question now becomes Cormier's choice of treatment to deal with the torn tendon because he has several options.
Rest and rehabilitation could allow the injury to heal on its own over time while Cormier could also choose to have PRP (platelet rich plasma) injections, which is something he's had done to his knee previously to treat a prior injury.
The third option is surgery, which would likely keep Cormier out the shortest amount of time, but the light heavyweight champion told MMAFighting.com on Monday that he's avoided going under the knife for most of his career and he'd like to keep that streak alive.
If Cormier opts for surgery, it's likely his recovery time would end up being several weeks with a return to action possible during the first quarter of 2017.
As for Johnson, he opted to wait for Cormier to return before accepting another fighter at 205 pounds. Johnson told FOX Sports on Monday that he sympathizes with Cormier's injury after dealing with a similar ailment ahead of his last fight.
"I know how painful a groin injury is," Johnson said. "People don't know but when I fought Glover (Teixeira), I had aggravated my groin like two weeks before. If I was moving left or moving right or even cough, it was hurting me so I understand."
The injury was a tough setback for Cormier following a tumultuous year for the light heavyweight champion.
Cormier was scheduled to face Jon Jones in April but he was forced out of the fight due to a shin injury that occurred in training just weeks before the matchup was scheduled to take place. The rematch was then scheduled for UFC 200 in July, but Jones was pulled from the card after failing a pre-fight drug test ahead of the event.
Cormier went on to defeat Anderson Silva by unanimous decision, but wasn't able to defend his title on the card as expected.
Now this latest delay will put Cormier out of action until sometime next year as the light heavyweight title has still not been defended since he defeated Alexander Gustafsson in October 2015.