Daniel Cormier: Jon Jones is getting commended for doing what he should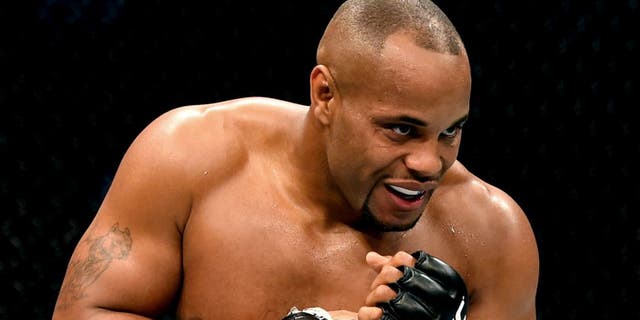 Daniel Cormier gets to fight his rival Jon Jones again this spring. A lot has happened since they last met, in January of 2015 when Jones won a close decision.
Since losing to "Bones," Cormier stormed back with back-to-back wins over top contenders Anthony Johnson and Alexander Gustafsson. Now, he heads into their rematch as the defending champion.
To the Olympian, that makes all the difference in the world. "On Jan. 3, when I left the MGM Grand and Jon beat me, I knew, eventually, we'd cross paths, again," he said.
"They said, 'DC, you have to beat the two toughest guys in the division. I you have to beat [Alexander] Gustafsson. You have to beat [Anthony Johnson].' I said, 'Ok, if that gets me back to Jones.' Well, I did that."
In the process, Cormier has gotten more at home at light heavyweight. He's had the chance to test himself against the very best the division has to offer, and has come out the other end more bold than ever.
"I beat the two best men in this division and now we're right back where we started," he continued.
"But this time it's different. I'm the champion. And, by him getting out of the game for as long as he's been out of the game, it allowed me to get more comfortable at this weight division, It allowed me to go through wars that I need to prepare for a war that I'm going to have with him. No one in this division can keep Jon and I away from each other and I feel as though it's him and I, and then everybody else."
Cormier is under no illusion that Jones won't also be an improved version of himself. After all, he's appeared to finally be working hard in between training camps, and being more disciplined.
The world may be impressed with a leaner, more focused Jones. Cormier is not, however.
"Do I expect a different Jon Jones? Yes, I believe that he's gotten himself in order," he allowed.
"What he's doing now is only normal but he gets commended for it. He gets commended for doing the things that you're supposed to do. Good on him."
With that said, Cormier says that all the positive life changes in the world won't change the fact that he and Jones will clash in the cage, on fight night. "He can have his life completely sorted out [but] when him and I are in the same area ... you're going to see fireworks," he concluded.
"Fans are going to see a much better fight than last time. This time, my focus is going to be on making him fight where I want him to fight. I'm going to make sure that he's having to fight every single second of this fight."
Heading into the rematch, Cormier has an enthusiasm to train and compete that he says he hasn't felt in a while. "There's excitement like I haven't felt for a really long time," he said.
"I cannot wait to stand across the Octagon from that man again."