Daniel Cormier, Jon Jones get into backstage altercation ahead of press conference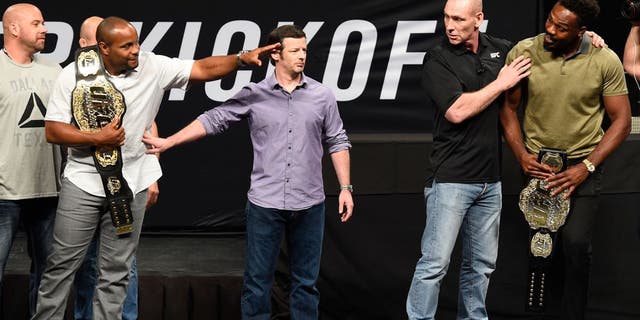 DALLAS Before Daniel Cormier and Jon Jones could even address the media about their newly minted fight, the two rivals nearly went toe-to-toe backstage ahead of the UFC Summer Kickoff press conference.
In footage captured by lightweight competitor Michael Chiesa for FOX's ProCast, Cormier is seen shouting at Jones over a comment the former champion apparently made towards his children and that was all it took for them to nearly come to blows.
Security intervened and kept the fighters apart before it could boil over into an even more volatile situation.
After the press conference finally started, Cormier went into further detail about the altercation explaining that he actually launched a water bottle at Jones before the confrontation erupted.
"You know what happened behind the stage? He's a [expletive]. He's a [expletive] ass. He said something about my kids so I smacked him in the face with a water bottle," Cormier said.
Cormier and Jones were separated but it's hard to forget the incidents they've shared in the past including a full on brawl in the middle of the MGM Grand Hotel in Las Vegas in 2014 while promoting their first fight.
In fact at the end of the press conference when the fighters will typically square off with each other, Cormier and Jones couldn't even get that close without the potential of things turning physical.
The UFC clearly didn't want another riot on their hands so they kept Cormier and Jones far apart until they both exited the stage.
Cormier will face Jones at UFC 214 in Anaheim on July 29.