Daniel Cormier invites Ovince Saint Preux to train with him for Jon Jones fight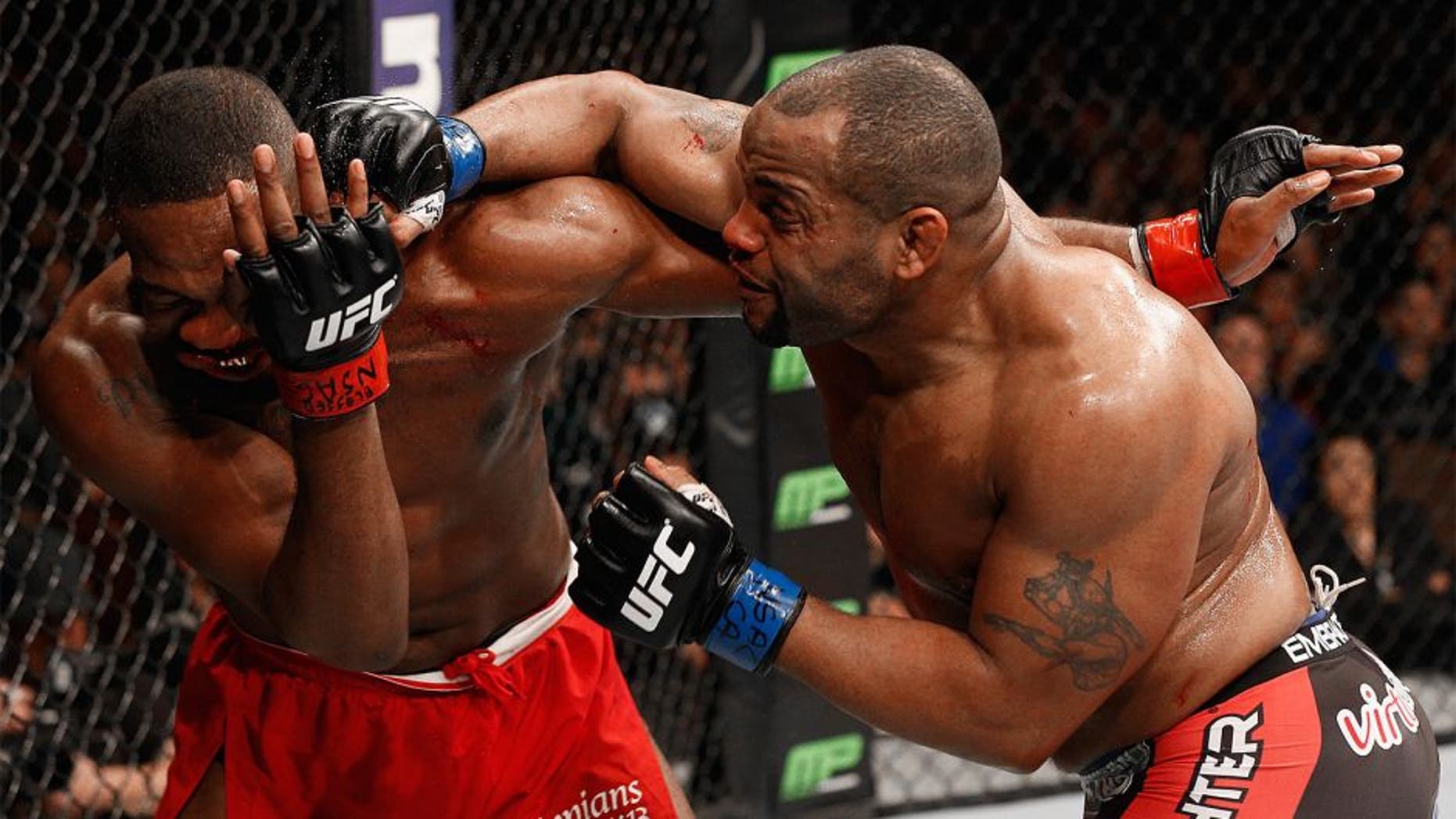 Daniel Cormier fought as hard as he could to compete at UFC 197, but ultimately his management team along with the UFC opted to pull him from the show after he suffered a leg injury just over a week ago during training.
The accidental injury damaged Cormier's interosseous membrane in his left leg around his shin and will keep the light heavyweight champion sidelined for about five to six weeks before he can train again.
Just after Cormier was forced off the card, the UFC announced that his opponent Jon Jones would face Ovince Saint Preux in an interim title fight at UFC 197 on April 23. The interim title confused many considering Cormier just defended his belt in October 2015 and this injury isn't expected to sideline him for more than a few weeks.
Still, Cormier says he holds no ill will toward the UFC making an interim title in his absence.
"That stuff doesn't really affect me," Cormier told FOX Sports on Monday. "I know what I've done and I know who I am. It didn't really affect me all that much. So if Jon (Jones) fought Anthony (Johnson), it would have made sense. No knock on Ovince, he's a great guy, but that last fight with Feijao (Rafael Cavalcante), you make these matches you kind expect it to be a fight where either guy can win and if Ovince wins, you've got Ovince with a belt after the fight he had with Feijao just right before. That would be the only issue.
"If it was Anthony and Jon, I was all for it because it doesn't matter to me. The only issue I had was that it was Ovince because he just beat "Feijao" and he lost to Glover (Teixeira) the fight before."
Cormier has nothing but good things to say about Saint Preux as a fighter, but he's not oblivious to the fact that the former Tennessee football player has lost to both top five fighters he's faced in the UFC.
Ryan Bader handed Saint Preux his first UFC loss before Glover Teixeira did the same just two fights ago when they fought last August.
Cormier applauds Saint Preux for stepping up to the challenge, but he also knows facing Jones on a full training camp isn't easy -- much less doing it on three weeks notice.
"I don't want to (expletive) on Ovince, that is not my intention. I think he's a great guy, I think he's got an unbelievable amount of talent and ability. I just think when you're fighting Jones, to have a chance to beat him you've got to be able to do everything," Cormeir said. "Some of the deficiencies Ovince has are really going to cost him against Jon. Jon is who he is for a reason. So this is about as close as MMA will ever come to boxing, meaning almost like a tune-up fight before the big fight.
"Like Andre Ward fighting the guy last week that was undefeated, but he wasn't going to be too much of a threat to him. It would be like if Floyd (Mayweather) took that year off and he would have fought DeMarcus 'Chop Chop' Corley or something. He wouldn't have gotten in there (Juan Manuel) Marquez right away. This is as close as we'll get to boxing, where a guy gets a tune-up fight."
Cormier may look at the upcoming bout between Jones and Saint Preux as a warm-up bout until he returns to defend the title later this year, but he's still happy to be involved in the main event at UFC 197 in a different regard.
Cormier says he would gladly offer a helping hand to Saint Preux to get him ready to face Jones at UFC 197 if he wanted to travel to San Jose to work with his team at American Kickboxing Academy over the next few weeks.
"I don't mind playing spoiler. Ovince Saint Preux needs to know that not only me but every other guy at the American Kickboxing Academy are ready and open to open those doors in trying to help him accomplish his goals," Cormier said. "Get trained by the best team in the business."