Daniel Cormier: 'I could really give a s*** about Jon Jones'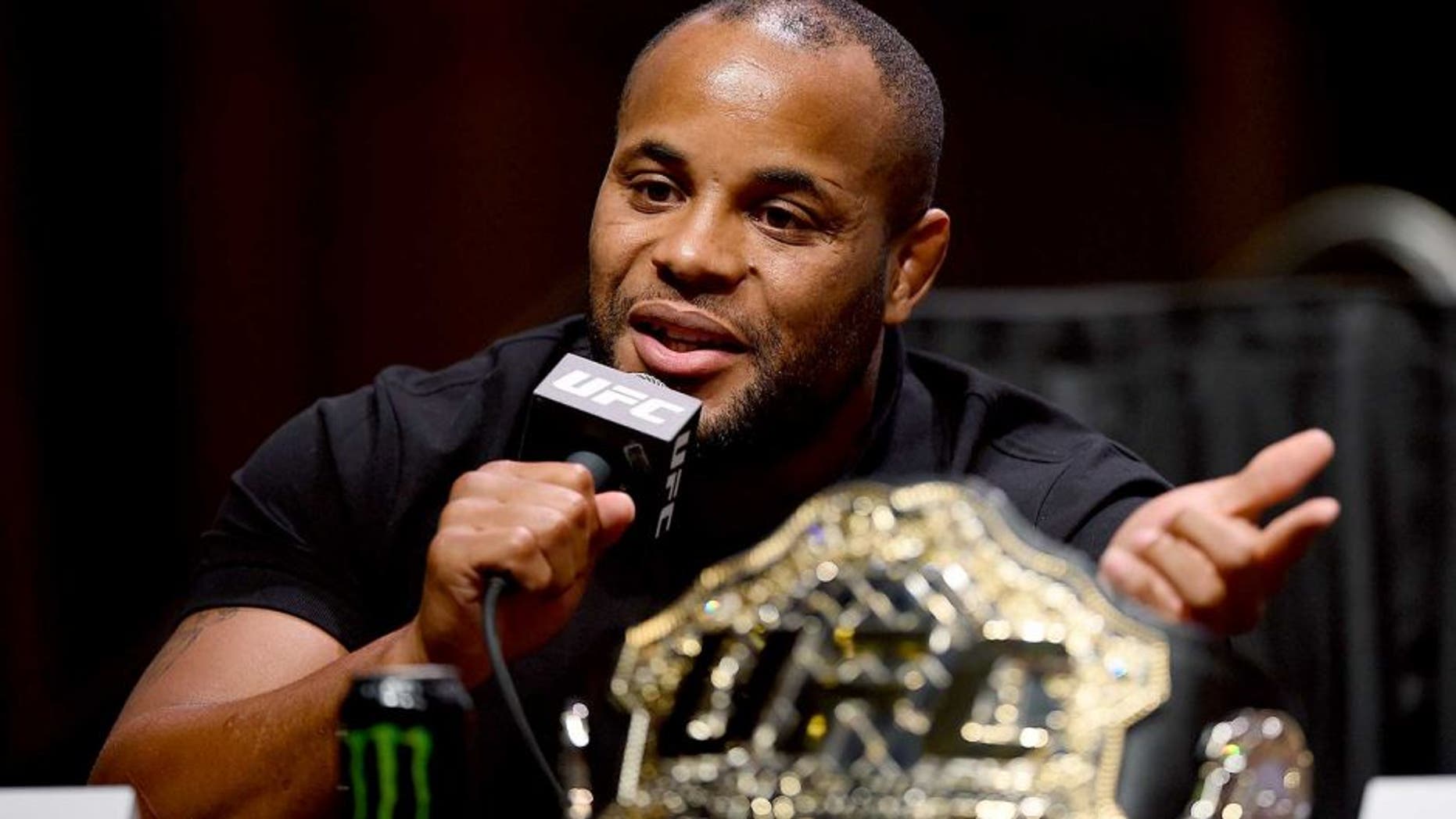 It's nearly impossible for light heavyweight champion Daniel Cormier to escape questions about Jon Jones. But the inquiries only got louder this week after the former titleholder was finally scheduled for a plea hearing following his arrest earlier this year on alleged hit-and-run charges.
To make matters worse, Jones will appear in court on Sept. 29 -- just three days away from Cormier's title defense against Alexander Gustafsson at UFC 192 in Houston.
While Jones' shadow continues to loom large over the division since his absence, Cormier says the reality is he never gives the former champion much thought except when the media constantly brings his name up during interviews.
"The thing that's really f**ked up is that we live our day-to-day lives normal, we don't worry about Jones. But you guys will ask us questions about this guy and then the headline will make it sound like I'm over here stewing about Jon Jones. I could really give a s**t about Jon Jones," Cormier said on Friday.
"I care about beating Alexander Gustafsson and then if Jones is the next guy -- Jones is the next guy. If it's (Rashad) Evans, if it's (Ryan) Bader, it doesn't matter who the next guy is. It's hard to answer these questions about this guy and allow him to actually just sit and continue to almost reign over this division when he's disqualified himself from competition -- because you continue to ask questions about him. My day-to-day life does not involve worrying about Jon Jones."
As frustrating as it might be for Cormier to constantly swat away questions about Jones, he also understands why his name is so relevant to the conversation.
Cormier and Jones engaged in one of the most bitter rivalries in UFC history in 2014 before finally meeting in the Octagon this past January. Jones came out victorious, but was then stripped of the title after his arrest in April.
Now, Cormier stands tall as the UFC light heavyweight champion, but he knows Jones is always going to be a name that's attached to his no matter how many times he fights or defends the belt.
"For a long time, Jones has been a guy that's been tied to me very closely. I don't anticipate that ever changing and now with his hearing being so close, it just kind of adds fuel to the fire," Cormier said. "It keeps him very relevant in the division even though he's gone. It also kind of allows him to stay and cast a shadow."
Chances are Cormier is never going to be a fan of Jones, but he's absolutely in his corner when it comes to his return to the Octagon.
To be the best you have to beat the best, and Cormier wants nothing more than to become the person to finally hand Jones the first legitimate loss of his career.
At the same time, Cormier hopes the court hearing that's set for next week will end with Jones facing the consequences for his actions after the accident he allegedly caused in April.
"I think every guy on this call -- myself, Alexander Gustafsson, Rashad Evans, Ryan Bader -- everybody should want Jon Jones back. It's not just me," Cormier said. "Obviously, I'm the one that's asked about it more because I have the championship, but I think every guy in this division should want him to come back so they have the opportunity to compete against that guy. Everybody should want him back.
"I am rooting for him, I don't know what will happen but in reality I do hope there is some punishment for his actions. No one should be able to do those things and not be punished for those kinds of actions."