Daniel Cormier explains why he's not taking shots at Jon Jones right now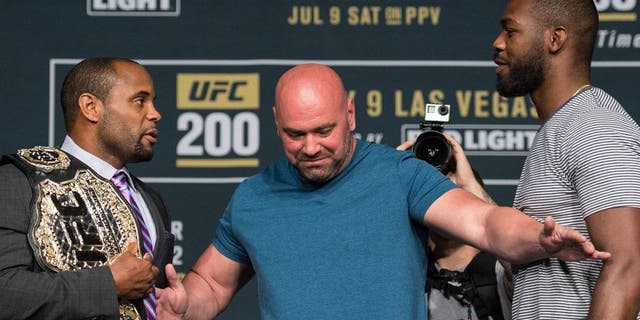 NEWYou can now listen to Fox News articles!
Daniel Cormier will never be Jon Jones' biggest fan, but he refuses to kick the man while he's down.
Jones was pulled from UFC 200 last Saturday night after a drug test administered by USADA (United States Anti-Doping Agency) came back positive for a banned substance, forcing his bout with Cormier to be cancelled.
The test results sent shockwaves through the sport as arguably the best pound-for-pound fighter in MMA was accused of cheating while Cormier went on an emotional roller coaster after missing out on his chance to avenge the only loss of his professional fighting career.
As disappointed as he was that Jones got pulled from the card, Cormier took the high road when addressing his longtime rival just minutes after finding out that their fight was cancelled.
Now several days later, Cormier is still refusing to engage in any kind of name calling or throwing accusations at Jones because despite their disdain for each other professionally, he sees no need to take cheap shots while the interim champion is at arguably the lowest point of his career.
"What's it do for me? It doesn't make me feel any better if I go out there and try to pile on him," Cormier told FOX Sports this week. "What's it do for him? Being that the guy he has been so tightly tied to is out there fighting while he doesn't get to do what he's known to do, that can really affect him going forward. You never know what happens to people in those types of situations. Because obviously, I'm pretty sure he's going through some tough, tough times depressionwise and I would not want to say something that could end up turning into something way more negative.
I try to think about things on a bigger level than just competition. As a human being, that's not who I am. I'm not one to kick somebody while they're down. It's not who I am. -- Daniel Cormier
It would be easy for Cormier to point fingers and accuse Jones of being a cheater, but that's just not the way he's built.
He also knows Jones mocking him as he suffered through an emotional moment following their first fight gave Cormier all the motivation he could possibly need ahead of their rematch. Cormier has no plans to fuel Jones' return to action, whether that's a few months from now or two years depending on the penalties he may face as a result of the doping violation.
"When I lost to Jon, the way that he acted was my driving force in my preparation going back. So I don't want to be like that," Cormier said. "I don't want to be like that to him. Cause when I lost, he said 'I hope he's somewhere crying' and a number of other things, and that's how he deals with those situations.
"In terms of me, I just wish him the best and just hope he can get back to doing what he does."
As much as Cormier refuses to insult Jones right now due to his positive drug test, he can't ignore the ramifications of this situation in the bigger picture.
Not only does this delay any potential rematch, but Cormier knows Jones will also face a mountain of scrutiny regarding the use of a banned substance, not to mention the questions that will loom large over all his past performances now that he got busted.
"It puts everything into question. When you test positive for a steroid or for something that's supposed to block steroids, it comes into question everything you do," Cormier said. "Any time you test positive, it's very dangerous because then people start looking back and going, 'Well was he doing this the whole time?' That's the question.
"I said this at that press conference -- if a guy is willing to do something that can damage you in the lead up to something like cocaine, then you've got to believe they'd be willing to do things to enhance them going into a competition. That's kind of my thought."
In terms of his own future, Cormier is done focusing on Jones for the time being.
There's no doubt Cormier wants to avenge his previous loss to Jones and that defeat will leave a bad taste in his mouth until he gets the chance to wash it out. Unfortunately, Jones has much bigger problems to face right now than worrying about his next fight, so Cormier is going to look ahead toward the next challenge and put his biggest rival in the rear-view mirror.
"I've got to move forward. I've got to get rid of that experience. It's crazy, a lot of our experiences have not been good. This rivalry, or whatever it is, has not made me better. It's made me different, a lot of times ugly. So, yeah, it will be good to get a chance to step away, actually live my life away from Jon, without the connection to Jon and just do me. That's my thought," Cormier said.
"My legacy is not going to be tied to him anymore until he's available to compete against. Right now, he's not available. So yeah, I'm excited. My championship is solidified. My championship was solidified when I beat Anthony Johnson and Alexander Gustafsson, but with Jon doing this again, it's a situation where it's out of my control and all I can do is take care of Daniel."
Cormier does hope to compete again in 2016, most likely against the winner of the upcoming UFC 202 fight between Anthony "Rumble" Johnson and Glover Teixeira, but whoever the promotion finds for him to face, that's who he'll take.
"I still want to fight agains this year, I just don't know when it will be," Cormier said. "We'll see when those guys are ready to fight. There's a lot of guys in this division who are great fighters, and whoever gets the title shot gets the title shot. I don't pick who I fight.
"I just go out there and fight whoever the UFC tells me to as the champion."