Daniel Cormier defends title in five-round bloody war over Alexander Gustafsson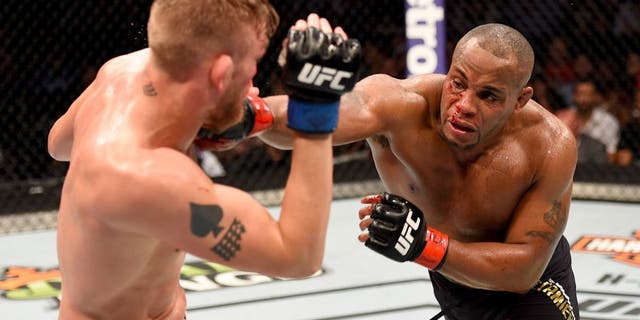 NEWYou can now listen to Fox News articles!
Daniel Cormier needed every minute of every round to get past Alexander Gustafsson in a five-round war that ended with the champion holding onto his belt after a razor-close split decision, 48-47, 47-48 and 49-46 on Saturday night at UFC 192 in Houston.
Cormier had to fend off several takedowns from Gustafsson as well as a knockdown in the third round to battle back and pull off the victory in his first title defense as light heavyweight champion.
Cormier took the most damage of any fight in his entire career, and when it was over he thanked Gustafsson for making him better as a fighter and forcing him to use everything in his arsenal to hold on to his belt.
When the fight started, Cormier wasted no time pushing Gustafsson to the cage before grabbing under his leg, lifting the Swede and sending him crashing down to the mat.
Following the slam, Gustafsson managed to pull guard with Cormier looking for punches and elbows from the top while he peppered away to the head and body.
Gustafsson was able to work back to his feet before the round ended, but Cormier still got the better of him on the feet with a couple stiff punches that only strengthened his resolve.
Things turned into a bit of a dog fight in round two as Gustafsson opened a cut under Cormier's right eye before grabbling a body lock takedown of his own.
"I just wanted to prove that I'm not one-dimensional. I can stand with the best strikers in the world," Cormier said. "Alex landed some good shots. Midway through that second round he hit me with a nice right hook; I couldn't see that whole round. Once I got my vision back I started pressing again."
Cormier quickly came back with a barrage of punches, including a short series of uppercuts from the clinch. Cormier continued to pour on the offense until Gustafsson finally countered with another takedown, although the champion once again got right back to his feet before the round ended.
Cormier's best strikes in the third continued to be his uppercut from the clinch as he hammered away at the tall Swede while pulling his head down with one arm and clubbing away with the other.
"When you can start making a striker try to wrestle you and you're a wrestler, you've done a damn good job," Cormier said about his uppercuts.
Just when it looked like Cormier was in control, Gustafsson cornered him against the cage and unloaded a huge knee strike followed by a short right that dropped the champion to the mat. Cormier recovered but the knockdown likely cost him the round.
Cormier came out ultra-aggressive in the fourth round as he chased Gustafsson around the Octagon trying to land his punches in succession. Gustafsson did a good job of avoiding the damage and countering with a few straight shots of his own, although the total for the round didn't equal the output of the champion.
In the fifth and final round, Gustafsson trotted away from Cormier several times to reset in the center of the Octagon, and the defensive posturing could have weighed on the minds of the judges as he backed up while the champion continued to press forward.
Cormier's aggressive style helped him land the better punches once again. Gustafsson countered with some shots of his own, but it wasn't enough. As the seconds ticked away and the final horn sounded, both men raised their hands after a "Fight of the Year" candidate.
"Thank you Alexander Gustafsson you made me a better man and fighter tonight," Cormier said in celebration. "I will forever be indebted to you. Alex, thank you."
The two light heavyweights pushed each other to the brink and back again over five rounds and now Cormier stands tall as champion as he awaits word on former 205-pound king Jon Jones and his potential return to the Octagon in the near future.