Daniel Cormier: Alexander Gustafsson doesn't have any 'earth-shattering wins'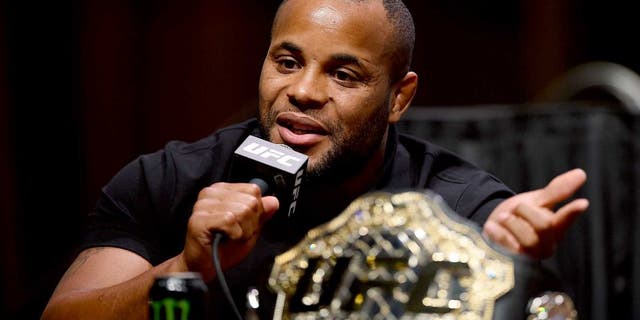 Fighting isn't always about the physical preparation. Sometimes mental warfare can wear on a competitor before they even walk to the cage.
On Friday at the UFC's "GO BIG" event in Las Vegas, UFC light heavyweight champion Daniel Cormier (16-1) made every effort to get inside Alexander Gustafsson's (16-3) head when he cut a promo that oozed of sarcasm. If his plan succeeded, Cormier's sharp-witted commentary will have shook Gustafsson to the core.
Gustafsson has had a tumultuous ride in his recent stretch of fights, going 1-2 in his last three. At UFC 165, the Swedish native engaged in an all-out dogfight against the division's former champion, Jon Jones. Though he lost, the battle was regarded as the Fight of the Year by pundits and was the closest any fighter had come to usurping Jones from his throne. Though the 28-year-old rebounded with an impressive finish of Jimi Manuwa, he was demolished by Anthony Johnson in front of his hometown crowd this January. The loss cost him another shot at squaring off with Jon Jones for the belt.
Regaining the confidence and the mental fortitude it takes to again challenge for the 205-pound title can't be easy for "The Mauler". Following his setback to Johnson, Gustafsson admitted in an interview with Swedish newspaper Expressen that he had contemplated retiring from the sport. But, Gustafsson overcame that adversity and now looks to redeem himself in the main event of UFC 192.
"It's a great fight and it's a second opportunity for me," Gustafsson told FOX Sports. "It means everything to me. I lost my last fight. I made a mistake, I'm not doing it again. The third of October I'm going to be the world champion."
Without missing a beat, Cormier interjected and did everything he could to taunt Gustafsson.
"If I was Alexander Gustafsson, honestly, I'd probably be a little upset at you guys because you always talk about how close he fought Jon Jones. What about his earth-shattering win over Jimi Manuwa? Or his monumental win that was -- do you know? -- somebody else.
"I mean really, you guys talk about a fight that he lost. He lost," Cormier continued. "Let's stop talking about the fight that he lost and talk about something that this guy has done positive. And when you look at it that way, you guys know exactly what is going to happen on October 3rd. He's going to lose to me. When you look at it objectively, and not because he fought a guy closer than I fought him, you realize what's going to happen on October 3rd.
"Out of respect for Alexander, please talk about some of these earth-shattering wins that he has out of the course of his career, please."
No matter who comes away with the win, the return of Jon Jones is looming ahead. Both Gustafsson and Cormier previously challenged and lost to Jones in championship fights. "DC" said he hopes to get the chance to avenge his only career loss to the former kingpin.
"Obviously, I need him as I move forward in this fight in October and I face Alexander," Cormier said. "I need that guy. I need that guy to get back in here and fight me again for my journey to be complete, and for me to complete. As I finish this sport I need him. And honestly, I wish him all the best so that he can get back and I can stop playing around with these guys and get back to business."
Cormier will look to defend his belt for the first time against Gustafsson at UFC 192 on Oct. 3. The light heavyweight title fight will emanate from the Toyota Center in Houston, Texas.