Daniel Bryan gets well wishes on retirement from 'yes' chant originator Diego Sanchez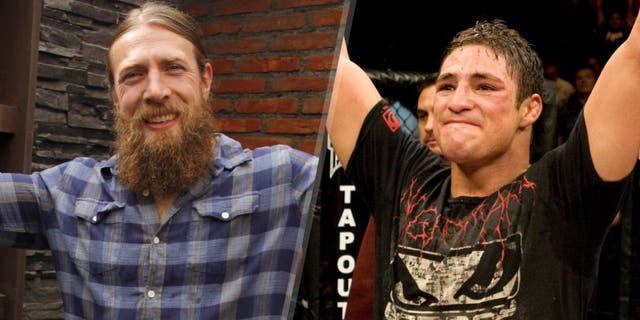 One of the most iconic parts of Daniel Bryan's famous run in the WWE was his emphatic "Yes! Yes! Yes!" chant that dominated virtually every arena he stepped into during his professional wrestling career.
On Monday night, Bryan gave an emotional goodbye speech as he officially announced his retirement from professional wrestling, but chances are no matter where he goes in life, the "yes!" chants will continue to follow.
It's been well documented over the years that Bryan borrowed the famous chant from "Ultimate Fighter" season one competitor and UFC veteran Diego Sanchez before turning it into his signature catch phrase.
Following Bryan's retirement announcement, Sanchez sent well wishes to the former WWE champion on his career while also thanking him for taking the "yes!" chant to a whole new level of popularity and recognition.
The UFC also chimed in with a message to Bryan on Monday, sending out a photo of the retired WWE superstar alongside Sanchez when they finally met in early 2015.
While the UFC might be big fans of Bryan, the admiration is mutual, with the WWE superstar even dabbling in mixed martial arts while training near his home in Arizona.
Bryan actually worked out at the MMA Lab, which is the home gym for several notable fighters including Bryan Barberena and former lightweight champion Benson Henderson.
According to Henderson, who spoke to FOX Sports about Bryan's work ethic in 2014, the professional wrestler wasn't at the MMA gym just there for the fun of it.
"He busted his butt," Henderson said. "I value hard work above anything else, and for him to get where he's at, of course he's a hard worker, but he busted his butt."
Working hard was one of Bryan's greatest attributes in the squared circle as well, and his enthusiasm will surely be missed. But chances are no matter where he goes or what he does, Bryan will always hear "yes" when he gets there.