Danica Patrick unveils new paint scheme on 'NASCAR Race Hub'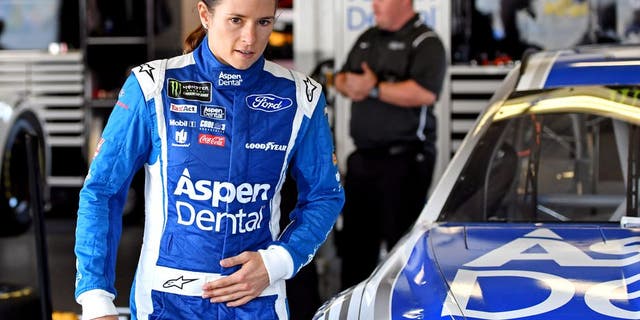 NEWYou can now listen to Fox News articles!
If you follow Danica Patrick on social media, you know how devoted she is to her dog, Dallas.
Now, the Stewart-Haas Racing driver, in conjunction with sponsor Code 3 Associates, is doing something very special to raise awareness for cancer research in animals.
Code 3, a anon-profit organization specializing in animal rescue and recovery in disaster areas, will feature the One Cure program led by the Colorado State University Flint Animal Cancer Center (FACC) on Patricks car.
One Cure is a project where innovative cancer treatments for pets are being researched in clinical trials to benefit people. The FACC sees more than 1,500 new animal cancer patients every year. More info on the program is available at onecure.com.
Patricks No. 10 SHR Ford will carry a One Cure paint scheme May 13 at Kansas Speedway, on May 20 at Charlotte Motor Speedways Monster Energy Open and Aug. 19 at Bristol Motor Speedway.
To gain even more exposure, the team and sponsor are using a tie-in with the new film Wonder Woman, which opens nationally on June 2. Patrick will carry the Wonder Woman Once Cure colors at Kansas and Charlotte, with a different One Cure scheme at Bristol.
Its a Wonder Woman One Cure paint scheme, Patrick said prior to her appearance on Wednesday nights NASCAR Race Hub on FS1. Its going to be on the car at Kansas and the All-Star weekend. And Richmond will be the first race that Code 3 will be on the car.
Code 3 Associates will have its own branding when it serves as Patricks primary sponsor June 25 at Sonoma (Calif.) Raceway.
And Patrick is a serious animal lover, no question.
I love animals so much, said Patrick. I love them more than people, I think. Is that bad?
Patrick has always been an animal lover, and her fondness for animals became actionable as her racing career grew.
On a somewhat more serious note, Patrick is enthused about the One Cure program.
Ive given to all sorts of animal charities through the years, but One Cure is different. The purpose of One Cure is a game changer in finding a potential cure for cancer, Patrick said. Our pets are members of our families, and when they arent well, we want to do everything we can to help. Cancer has touched so many of us. Knowing we can use what we learn from keeping our animals healthy to potentially help save human lives is a cause Im honored to support.