Danica at Daytona an issue for NASCAR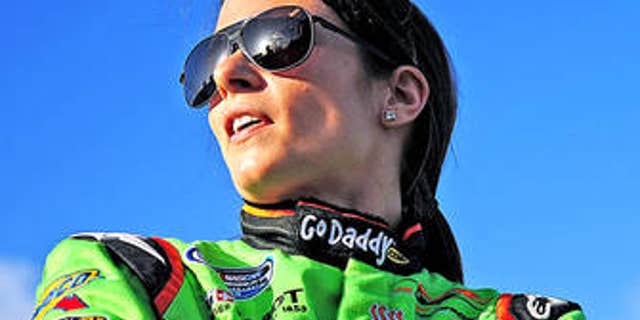 You prove yourself through hard work, courage, success. There is glory in making the climb to the top, not through cutting in line.
Danica Patrick, with the help of her team owner, Tony Stewart, bought her way into the Daytona 500. Simple as that.
She is going to the Super Bowl of racing not because she drives a car well but because she looks great on top of one in a bikini. This turns Patrick into a gimmick. She now is a GoDaddy babe who happens to be driving, instead of the other way around. I always thought of her as a driver first.
It's hard to find the right balance when you're combining sex and sport. Credibility is questioned, probably unfairly. But Maria Sharapova won Wimbledon and was No. 1 before she hit magazines in a bikini. That's the right direction, anyway.
Patrick has landed at the top. She has never raced at the top level of NASCAR, only done OK at the next level down -- the Nationwide Series. Her average finish is farther back than her average starting position.
She did not earn her way into the Daytona 500 and will run qualifying only to determine her starting position. Someone else earned enough points to get in, but Patrick's team, Stewart-Haas Racing, bought that someone's points, painted another car with that someone's number and called Patrick a success.
In other news, the Chicago Bears have purchased the New York Giants' playoff wins and will face New England in the Super Bowl on Sunday.
Patrick is doing this with the blessing of NASCAR rules. Crummy rules. Nearly every year, something similar happens, though this one has its own special twists.
In fact, last year's Daytona 500 winner, Trevor Bayne, got into the race when his team bought someone else's points. But no one will accuse him of getting in for his Q rating. Instead, Richard Petty Motorsports decided to reduce the number of cars it ran, so it sold some of its points. The plan was that Bayne, in one car, would use his points to get into Daytona and then race a partial season. By doing so, Bayne's team didn't accumulate enough points to stay in the top 35 to automatically qualify for races.
But in Patrick's case, they are taking this ridiculous points thing a little farther. Her plan is to use the points to get into the big race in car No. 10, then drop back to the Nationwide Series for a while, then pop back up at different times for nine more Sprint Cup events.
While she's in Nationwide, the team that Stewart bought the points from, Tommy Baldwin Racing, will field the No. 10 car. But it will be another machine with another crew and another driver, David Reutimann. He'll be in 26 races. And when Patrick returns, she will have the benefit of the points Reutimann has earned. That way, she'll probably never have to run qualifying to get locked into the field of any race.
The top level of sport is supposed to be for champions, without exception for favoritism, personality or looks.
The Daytona 500 should be bigger than this. It should be for the fastest 43 cars. Instead, there is always some form of points swapping to help get the biggest names in.
Patrick's name is huge. I understand the marketing value of sex. Organizers of a great event can hope that the most marketable people do well. But you can't invent rules to make it happen. This just makes the race, and Patrick, look terrible.
It's just business. That's what NASCAR people say. But, no, the business of a race like this is to put the fastest cars with the best drivers and the best crews and the best teams on the track. You can sell out everything around a sport, everything around the fringes. That's business. But you cannot sell out the core of the competition.
Meanwhile, Patrick might go on to be a legendary driver. In fact, here's to hoping she does. But she's not there now. And while you can't blame her for taking everything she can get, it also puts her in a spot, adds pressure, sets her up to look like a failure. It's not always good for someone to be given too much.
The truth is, in a lot of ways, nearly everyone involved with the Patrick deal benefits. What happened is this: The top 35 finishers in owner points from last year are locked into this year's Daytona 500. Eight more can get in through qualifying.
Well, the Tommy Baldwin Racing Team, with driver Dave Blaney, got into the top 35. Under NASCAR rules, the points Blaney earned can be sold, roughly, as long as the Baldwin team remains at least a part-owner with the team that bought the points. So Stewart-Haas formed a partnership with Baldwin.
If these swaps are done all the time, the difference in this situation is Patrick. It's done for marketing purposes, not for racing. And perception means plenty: Non-racing fans will see it as Patrick getting preferential treatment.
Meanwhile, not long ago, Baldwin was such a little guy in the business that it was doing the start-and-park thing, meaning it would start a race and then just pull over and claim some other problem. It couldn't afford to run a full race.
Now, Baldwin is growing, evidenced by Blaney's success. But by selling its points -- and we don't know how much the sale was for -- Baldwin gets financial help. Blaney surely feels ripped off, but this move helps his team, which, theoretically, helps him. He can still qualify to get in.
The Big Race gets the Big Draw. Patrick gets into the race, as her team needs her to do.
GoDaddy gets a nice bump. It's win, win, win, right?
I don't know. Patrick the driver/sex symbol seemed much more interesting, much more fun to cheer for than Patrick the total gimmick.