Dani Carvajal picks up hamstring injury, could miss the rest of Real Madrid's season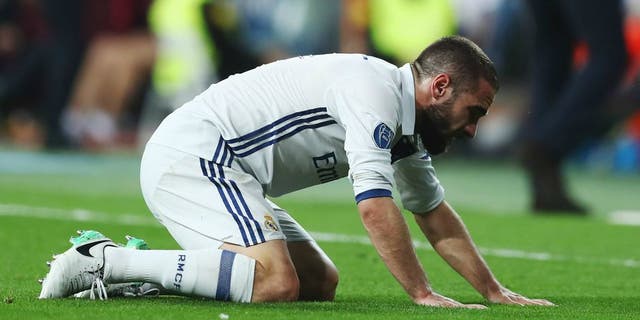 It was bad when Dani Carvajal went down injured against Atletico Madrid, but it's gotten even worse for the Merengues. According to a report from Real Madrid, Carvajal's suffered a grade 2 hamstring injury in his right leg, and that means he'll likely be out for 3-4 weeks of action.
If that recovery timeline holds true, Carvajal could just miss the rest of the season for Madrid. They've only got three scheduled La Liga matches left, with the last coming on May 21st as well as a postponed date against Celta to be determined. Even if Carvajal's recovery goes well, it's doubtful he'll make it for that May 21st date. Carvajal is almost guaranteed to miss Madrid's second leg match against Atletico, but there's a solid chance he'll make it back for the Champions League final on June 3rd if Madrid can hold on and avoid an upset in the second leg.
In Carvajal'sabsence, manager Zinedine Zidane will almost certainly lean on 27-year-old versatile Spanish defender Nacho, who's stepped in a right back more than a few times this season. He's a solid option for Madrid, although he doesn't offer the same dynamism and attacking ability as Carvajal.