D'Angelo Russell on Kobe calling him out for smiling after loss: 'No comment'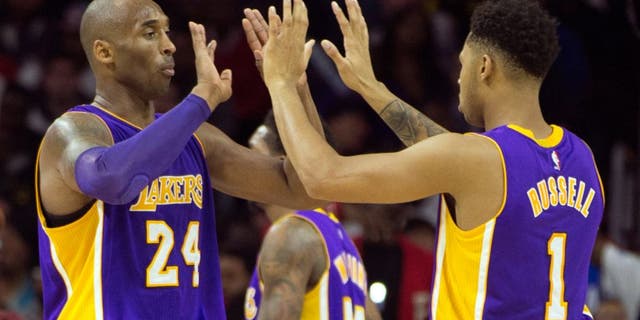 When asked about what he learned from Kobe Bryant publicly critiquing him in front of their teammates following the Los Angeles Lakers' blowout loss to the Portland Trail Blazers last weekend, rookie point guard D'Angelo Russell responded dismissively, according to the Los Angeles Daily News:
Bryant reportedly yelled at Russell and second-year power forward Julius Randle after the loss -- the Lakers' sixth consecutive at the time -- for allowing Damian Lillard (36 points) and C.J. McCollum (28 points) to torch the Lakers. He then took issue with the pair for supposedly smiling after the loss and displaying an upbeat attitude, calling them out by name and in front of the rest of the team.
Randle disagreed with Bryant's assertion as well, claiming he isn't the type of player who's content with a loss or isn't trying his hardest when he's out there:
Bryant had yet to publicly attack Russell and Randle the way head coach Byron Scott has until this weekend, and now we're seeing that, much like how they often respond to Scott, the Lakers' young duo is tuning out the criticism.
Russell and Randle have dealt with a lot of unwarranted criticism this season -- they're both essentially rookies, yet aren't necessarily given the leash most top-10 picks receive -- and it speaks to their competitive drive that they aren't willing to concede any fault or weakness.
In their defense, they did praise Bryant's in-game advice in the team's 92-90 loss to the Dallas Mavericks on Tuesday night.
Randle claimed Bryant gave him words of encouragement after he missed what would've been a game-winning 3-pointer at the buzzer, while Russell said he and Bryant discussed what the Mavericks would run as their final play -- and guessed correctly: a baseline jumper for Dirk Nowitzki. Bryant and Russell then made eye contact and acknowledged calling the sequence.
This suggests that neither player is holding a grudge against Bryant for calling them out -- they just disagree.
Both Russell and Randle are unafraid to speak their mind when asked controversial questions, and that's an admirable quality that will endear them to the media. But it can obviously rub Bryant or Scott the wrong way, coming off as disrespectful to their tenured elders.
As the Lakers' disappointing season trudges on, expect the disagreements to continue and perhaps get a little more heated.
Jovan Buha covers the NBA for FOX Sports. Follow him on Twitter at @jovanbuha.