Dana White: When Ronda Rousey returns, she's going to be a savage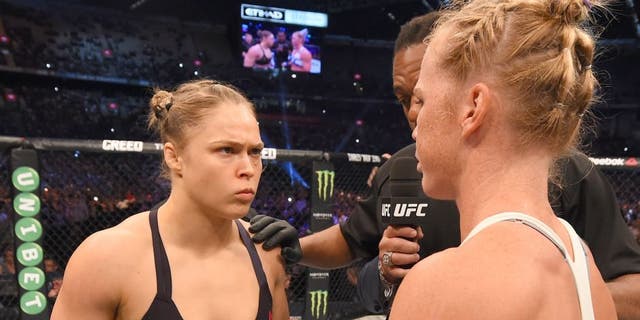 Ronda Rousey has never experienced defeat before in her mixed martial arts career, but UFC president Dana White expects the former bantamweight champion to come back even better than before following her loss to Holly Holm at UFC 193.
Rousey was outdone in virtually every aspect of the fight with Holm from striking to the ground game until she was knocked out with a vicious head kick in the second round.
White says that in his entire life working around combat sports he's never been around a harder-working or more driven athlete than Rousey, and he believes this loss will only serves as motivation to come back with a vengeance.
"She's the mentally strongest f--king athlete I've ever met in my life," White said on the Joe Rogan podcast following the fights in Australia this past weekend. "When she gets over this loss, she's going to be a savage. She was a maniac and a hard worker when she was the best in the world. What's she going to be like now that she lost?"
Rousey walked into the fight with Holm somewhere in the neighborhood of a 10-to-1 favorite but those odds were down from where she originally opened nearly 20-to-1 at most major sports books.
As much as everyone expected Rousey to win going into the fight, White says that Holm's performance proves not only that she was clearly a legitimate choice to earn the title shot. But now she's getting the respect she deserves as the best fighter in the world at 135 pounds.
It also makes the rematch between Holm and Rousey even bigger business for the UFC because the two fighters will definitely be on an even playing field for the second fight with the former champion potentially becoming a betting underdog for the first time in her career.
"The thing that makes this fight great again is Holly Holm, now everybody knows how talented Holly Holm is and that Holly Holm is legit and Holly is a workhorse, too," White said.
Following the event on Saturday, White seemed hesitant to declare an immediate rematch between Holm and Rousey, but hours later he appeared more resolute in that decision. Holm and Rousey will both get some much needed time off and then it looks like the promotion machine will rev up again to begin work on a second fight between the two women.
"Both of these two are going to take the next few months and go back in and start working on s--t and they're going to clash again and this second fight will be f--king awesome," White said.
Rousey returned home to the United States on Tuesday where cameras caught the former champion stepping off the plane along with her boyfriend and fellow UFC fighter Travis Browne.
According to White, outside of a cut across her lip that happened during the fight, Rousey is physically just fine, but she'll still get a break from action before the rematch with Holm is scheduled.
"There's nothing wrong with Ronda," White said. "She had a huge f--king cut in her lip, her lip was split open. I was there and I was like we don't need a f--king doctor sewing her lip up, what's her lip going to look like if a doctor sewed it?
"We brought in the best plastic surgeon from Australia last night and sewed her lip up and her lip looks awesome today."