Dana White scoffs at McGregor promoting fight against Mayweather without the UFC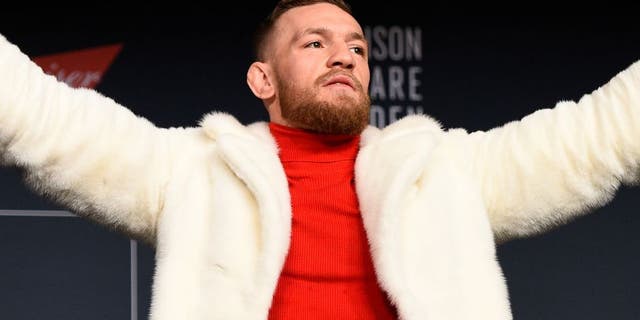 If Conor McGregor really wants to box Floyd Mayweather he's better off promoting alongside the UFC rather than going at it alone.
That's the message from UFC president Dana White, who reacted to McGregor's statement on Saturday where he said he could potentially promote a fight against Mayweather on his own.
McGregor said that putting a fight together with Mayweather without the UFC would be possible due to the Muhammad Ali Act that oversees boxing in the United States, but he'd still much rather work with the promotion regardless of the legal precedent.
"I believe so with the Ali Act, I believe I can (promote it), especially now that there's offers on the table. But I think it's smoother if we're all involved," McGregor said. "I think we're all about good business.
"I've done great business with the UFC, with Dana (White), with everyone. I think it's smoother if everyone just gets together, we get it involved, but again everyone's got to know their place. We'll cross that bridge when we come to it."
White seems to agree with McGregor when it comes to co-promoting alongside the UFC if he really wants the fight with Mayweather to generate the kind of life changing money he could make off the proposed boxing match.
"You know how I feel about Conor. I've always shown Conor nothing but respect and if he wants to go down that road with us, let me tell you, it will be an epic fall," White said at the FOX UFC Fight Night post fight press conference.
McGregor and Mayweather both seemed to agree that it's very possible the fight between them could realistically come together before the end of the year.
That being said, White still isn't willing to wager that the two biggest superstars in combat sports will ever come to an agreement to meet in the ring.
"Here's what I think the chances are -- about the same as me being the back up quarterback for (Tom) Brady on Sunday," White said.
It was just a couple of weeks ago that White offered Mayweather and McGregor $25 million each plus a cut of the pay-per-view profits to stage the mega-fight. White says he pressed the button on that offer because Mayweather continuously claimed that he was trying to put the fight together yet never actually reached out to him to ask about promoting the fight.
"Because (Mayweather) was full of (expletive) and he said that he had made an offer, which wasn't true. So I made a real offer. That was a real offer," White said.
As far as McGregor's numerous other comments on Saturday, including an Instagram tirade where he went on an expletive laced rant against the UFC, Mayweather, and the WWE, White didn't take any offense.
McGregor's post came just about an hour before he hit the stage in England for a pay-per-view interview that cost approximately $5 to view and White knows he was just trying to drum up some last minute business before going live.
"I didn't hear all that," White said. "Hey listen, when you're about to go on and do a pay-per-view that you're charging people $5 to listen to you talk, I'm sure you've got to say some pretty crazy (expletive)."