Dana White: Ronda Rousey will fight Miesha Tate for the title next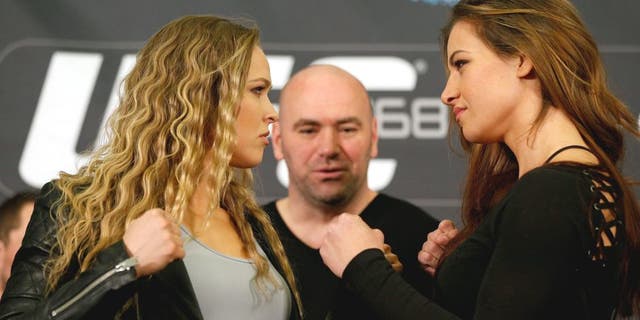 Ronda Rousey will still receive a title shot when she returns to the UFC later this year, but instead of facing Holly Holm, she will now take on Miesha Tate for a third time.
UFC president Dana White confirmed that he spoke to Rousey via text message on Saturday night after Tate choked out Holm in the fifth round at UFC 196 to win the women's bantamweight championship.
"I think that Ronda now will fight Miesha Tate for the title," White said when speaking to ESPN after UFC 196 concluded. "That's what's going to happen. That's what I said before this fight even happened. Whoever wins tonight will fight Ronda for the title.
"I texted Ronda -- Ronda wasn't watching the fight. I text Ronda and she said 'what happened?'. I said 'Miesha just choked her unconscious' and she said 'looks like I've got to get back to work'. She's scheduled to not come back until October or November but it doesn't mean I can't ask."
Rousey was scheduled to film a pair of movies back-to-back that would have kept her busy into the summer, but there's still no word on when either one will actually go into production.
As of now, neither "Road House" or "Mile 22" have actually scheduled dates to begin principle photography, which means there is a chance Rousey could return sooner than the fall when she was originally expected to come back.
Rousey has a long history with Tate after handing her two losses -- one in Strikeforce and one in the UFC -- and they have engaged in one of the most bitter rivalries in the history of the sport.
Now that Tate is holding the UFC title, their roles are reversed and if Rousey wants to reclaim the gold she's going to have to go through her to get it back.
For her part, Tate was non-committal to what comes next other than a celebration tonight after finally reaching the top of the mountain to become bantamweight champion.
"The right move feels like drinking a Budweiser and eating cupcakes," Tate said with a smile at the UFC 196 post fight press conference. "That's what the right move feels like. Then I will talk to KHI, my management team and we'll talk to the UFC.
"My job as the champion is to fight the next best person -- so whoever that is I'll fight them."